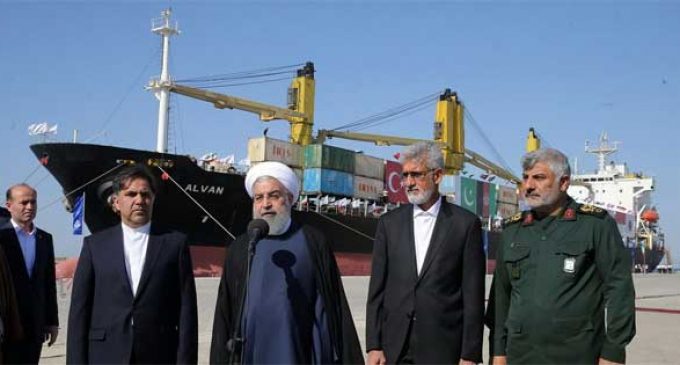 Tehran, Dec 4  Iran President Hassan Rouhani on Sunday opened the first phase of the Shahid Beheshti Port in the southeastern city of Chabahar that bypasses Pakistan and opens up a new strategic transit route between Iran, India and Afghanistan.
The project in Iran's southeastern Sistan-Baluchestan Province was inaugurated in a ceremony attended by 60 foreign guests from 17 countries at the port located by the Sea of Oman, official IRNA news agency said.
The port is located 645 km to the south of Zahedan, the provincial capital city, and is the only oceanic port of Iran that will link Sistan and Baluchestan province to Central Asia and Afghanistan.
"We are happy that the first wheat shipment for Afghanistan has been sent to the country's people via the Iranian port," Rouhani said.
Shahid Beheshti Port will be regarded as a new development stage for the province, the President said. The capacity of the port is 8.5 million tons.
The port will increase the capacity of loading and unloading of the ships as well as the employment rate in the province, according to an official with the Sistan and Baluchestan Ports and Maritime Organisation.
Ahead of the inauguration, India's External Affairs Minister Sushma Swaraj on a surprise stopover in Tehran met her Iranian counterpart Javed Zarif on Saturday and discussed the Chabahar port project among other issues.
Zarif said the port would reinforce Iran-India mutual and regional cooperation. "It also shows the importance of the port in the development of the region and the routes that connect Central Asian states to other countries in the world through the Sea of Oman and the Indian Ocean."