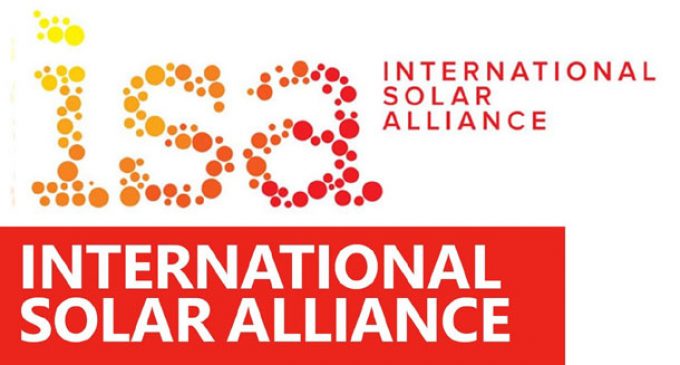 By Vishal Gulati (18:10) 
Bonn, Nov 14 (IANS) The International Solar Alliance (ISA), jointly launched by Indian Prime Minister Narendra Modi and then French President Francois Hollande on the first day of COP21 UN Climate Change Conference in 2015, is set to become a legal entity next month, an Indian official said here on Tuesday.
As of date, 44 out of 121 countries have signed the ISA Framework Agreement.
Sixteen nations have submitted the formal Instrument of Ratification. They include Bangladesh, Fiji, France, Ghana, Guinea, India, Mauritius, Seychelles, Somalia and South Sudan.
"The ISA is going to a legal entity on December 6," Anand Kumar, Secretary in India's Ministry of New and Renewable Energy, told IANS.
He's part of the Indian delegation to carry forward the negotiations at the ongoing UN Climate Change Conference (COP-23) in this German city.
Kumar said the ISA has been working for tapping 1,000 GW of solar energy by 2030 in its partner countries.
On the postponment of the first ISA summit in India that French President Emmanuel Macron was expected to attend on December 9, he said a new date would be announced as per the availability of French President and the Indian Prime Minister.
"There is no date as such fixed for the summit. We have informed the member countries about the deferment of the December summit at this conference (COP-23)," he added.
ISA is the first international intergovernmental treaty-based organisation headquartered in India.
Likewise, the second edition of Global Renewable Energy Investors Meet and Expo — RE-INVEST 2017, scheduled next month in Greater Noida in India has been postponed to April 19-21 next year.
France is India's partner in both the ISA summit and RE-INVEST 2017.
Earlier this month, the ISA and the European Bank for Reconstruction and Development signed the Joint Financial Partnership Declaration in New Delhi to deepen the cooperation to promote renewables.
The ISA's main objective is to undertake the joint efforts required to reduce the cost of finance and the cost of technology and mobilise more than $1,000 billion of investments needed by 2030 for the massive deployment of solar energy.
A report by the US-based Institute for Energy Economics and Financial Analysis (IEEFA) says India's renewables' boom is attracting the attention of a diverse range of leading overseas investors, including banks, utilities, pension funds and asset managers.
They include Goldman Sachs, JP Morgan, Morgan Stanley, the Macquarie Group, Sembcorp, Enel, EDF, Engie, SoftBank and Brookfield.
The report, authored by Tim Buckley, Director of Energy Finance Studies Australasia with the IEEFA, and energy finance analyst Simon Nicholas, says overseas investors are now seeking more opportunities in Indian renewable projects.
According to financial experts in India, there is a noticeable spike in solar investment by Chinese firms.
"Chinese investments in Indian coal projects have been declining. At the same time, Chinese investments in India on solar projects are slowly increasing," Jai Sharda, a founding partner with Indian equity research firm Equitorials, told IANS.
Greenpeace India senior campaigner Nandikesh Shivalingam said it is an opportunity for China to play a much more positive role.
"Given that India has an ambitious renewable energy target and China is the largest exporter of renewable energy equipment in the world, there would be an opportunity for China to play a much more positive role," he said.
India's draft "Ten Year Electricity Plan" calls for a staggering 275 GW of renewable energy by 2027, in addition to 72 GW of hydro and 15 GW of nuclear energy.
(Vishal Gulati is in Bonn at the invitation of the Global Editors Network to cover COP23. He can be contacted at vishal.g@ians.in)
Source : Sarkaritel.com