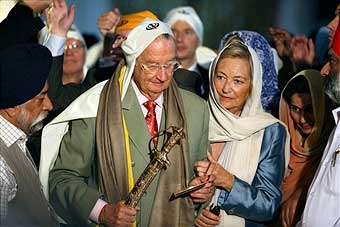 New Delhi, Nov 3  When Belgium's King Phillipe and Queen Mathilda arrive on a state visit to India from November 5 to 11, cooperation in the field of innovation will be the key area of focus, Belgian Ambassador to India Jan Luykx said.
"With the global challenges confronting the world like climate change and also the SDGs (the UN's Sustainable Development Goals) that have to be implemented, you need innovative projects for all sectors of society and of the economy," Luykx told IANS in an interview here.
"Now, nobody does it on their own, you do this in cooperation between countries worldwide. You also do it bilaterally," he said.
"That is why the programme of this state visit, which comprises several seminars, is focused on innovative technologies."
According to a statement issued by the Belgian Embassy ahead of the royal visit, Belgium possesses unique assets and innovative technologies, going from novel sectors such as nanotechnology or biotech, and innovative processes in clean technology, to the more traditional sectors such as food processing, glass production and heavy industries.
There will be representatives of 86 companies and 13 academic and scientific organisations accompanying the royal couple in the state visit and dozens of agreements are expected to be signed in the fields of trade and academic relations.
Ambassador Luykx said that there will be two seminars held in New Delhi — one on innovative technologies in cement industries and the other on innovative technologies in the food sector.
"In Mumbai, there is the clean tech seminar for smart cities. It is all about green technologies, green energy, waste water treatment," he said.
Stating that bilateral trade between India and Belgium is around 12 billion euros yearly, he noted that diamonds form an important part of this.
"I think out of the 12 billion euros, about eight billion euros is Belgium's exports to India and four billion euros is Indian exports to Belgium," Luykx said.
"Out of that eight billion euros of Belgian exports to India, 80 per cent is diamonds. Some other important sectors are chemicals, pharmaceuticals, and engineering products."
The Ambassador said that there are around 170 to 180 Belgian companies active in India and quite a number of them are producing not only for the Indian market but also for exports.
In this connection, he mentioned a company called Barco based in Noida that makes big display screens and equipment for projecting films and videos in movie halls.
"As as far as Smart Cities are concerned, for example, there is a Belgian company called Tractebel," Luykx said.
"They are a consultancy engineering company and the main consultants for three smart cities coming up in India," he said.
"And then we have a company called Vito that has developed technologies, especially for waste water treatment. There are already some pilot projects running in India."
Asked whether the King's visit will help in the forward movement for a free trade agreement between India and the European Union (EU) with Belgium's capital Brussels being the EU headquarters, the Ambassador said that his country was definitely interested in such an agreement "as soon as possible", but it was for the EU to decide on the talks for this.
A Broad-based Trade and Investment Agreement (BTIA) between India and the EU has been hanging fire for 11 years now despite 16 rounds of negotiations.
In the India-EU Summit held here last month, it was only decided that the talks would resume when all conditions were met.
While pointing out that the King is coming on a bilateral state visit and this will remain the focus, Luykx said: "Whatever else, it is clear that our message will also be that we want good and strong relations between India and the EU in all fields because whatever is good for the relationship between EU and India is automatically good for Belgium."
After arriving here on November 5, the royal couple will visit the Taj Mahal the next day.
On November 7, there will be a ceremonial welcome for the royal couple following which the King will hold a bilateral meeting with Prime Minister Narendra Modi. Later in the evening, the King and Queen will call on President Ram Nath Kovind, who will host a state banquet in their honour.
The royal couple will leave for Mumbai on November 9 and, after attending the programmes planned there, will depart from India on November 11.
This will be the third state visit by a Belgian king, with the previous ones happening in 1970 and 2008.