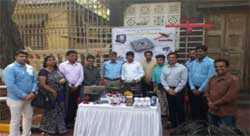 Kolkata, June 9 (IANS) Amid a significant increase in tourist traffic between the two countries in the last few years, Indonesia is aiming at seven lakh tourists from India in 2018, its envoy Sidharto R. Suryodipuro said here on Friday.
"The number of Indian tourists to Indonesia last year was close to half a million people (4.85 lakh)" while the number of people travelling to India from the Southeast Asian country was about 40,000.
"This year we are targeting seven lakh Indian tourists in Indonesia," he said at an event entitled "Pride and glory of Bali-Yatra (voyge to Bali)", to celebrate glorious maritime history of India and ancient trading links in Indonesia's Bali.
Claiming the diplomatic relationship between the two the nations at present to be "the closest in the last 70 years", the envoy said the leaders of both the countries were looking to enhance people to people connectivity through tourism.
"When Indian Prime Minister Narendra Modi met the Indonesian President Joko Widodo in Jakarta, they discussed about expanding air travel between the two nations. Tourism is the easiest way to establish people to people connectivity. Especially in India and Indonesia, because of the growth of middle class, more and more people are now open to travelling," he said.
However, the envoy pointed out that the connectivity between India and Indonesia was not up to the mark and pitched for direct flight connectivity to support the rising tourist traffic as no Indian carrier flies to Indonesia presently.
"We need more of regional connectivity and especially direct air connectivity between the two nations. A number of carriers in Indonesia fly to India directly but none of the Indian carriers fly to Indonesia. So a new air service agreement is on the cards," Suryodipuro said.
He said enhancement in business between the two nations also necessitates direct connectivity as the small and medium enterprises would look for convenient way of travel in terms of cost and time. Also the Import and export of perishable goods would be convenient if direct flights are available.
Talking about Indonesia's connectivity with eastern India, the envoy pointed there are only three flights that goes from Kolkata to Bali via Kuala Lumpur, in spite of the geographical proximity.
"The number is very low. We are talking to the government of India to increase the number of flights," he added.