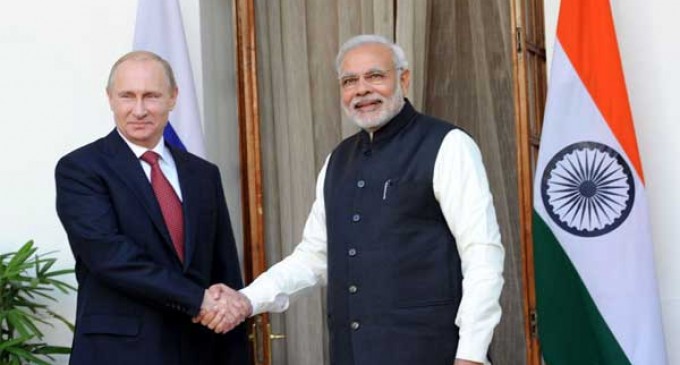 New Delhi, Dec 11 India's strategic partnership with Russia is "incomparable in content" and it remains India's foremost defence partner, Prime Minister Narendra Modi said here Thursday.
Addressing media after his summit talks with visiting Russian President Vladimir Putin, Modi said Russia has been a pillar of strength for India's security.
"The strategic partnership is incomparable in content," he said, adding that Russia had given its steadfast support to India "in difficult times".
"India too has stood with Russia through its challenges," he added.
In his remarks, Putin said bilateral trade between the two countries was $10 billion in 2013, which "is not enough". "We talked of measures to diversify bilateral trade," the Russian president said.
He said Russia was keen to deepen the political dialogue between the two countries to strengthen cooperation in various areas.
The president noted that the two countries have a special privileged partnership. "It continues to develop dynamically," Putin said.
Meanwhile, Modi said Russia will remain India's most important defence partner and the armed forces of the two countries have been holding joint exercises.
Russia will fully manufacture in India one of its most advanced helicopters, he said.
Besides, Modi urged Russia to locate defence manufacturing facilities in India.
Referring to the Kudankulum nuclear project, he said more Russian-made reactors would be set up in India.
Modi also referred to the need to boost collaboration between the two countries in hydrocarbons.
The prime minister said he had met Putin this year at opposite ends of the world — in Brazil and in Australia.
He recalled that Putin and then prime minister Atal Bihari Vajpayee launched the annual bilateral summit process in 2000.
The two sides inked several agreements and discussed a wide range of issues, including combating terrorism and ensuring security in Afghanistan.