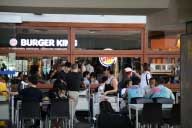 One hopes that Indian diplomats and national-security managers are doing some serious soul-searching about how and why events spun, so swiftly, out of control in neighbouring Maldives.
Given India's self-assigned role of regional "net security provider", the Integrated Defence Staff, in New Delhi, must be reviewing their plans for launching what they term an out of area contingency (OOAC) operation, at short notice. Should our military be called upon to render assistance to the Republic of Maldives, this will certainly not be for the first time.
Nearly three decades ago, in November 1988, a group of Maldivian dissidents, led by Abdullah Luthufi, and assisted by armed mercenaries of a Sri Lankan Tamil secessionist group, attempted to overthrow President Abdul Gayoom's government. Landing in a hijacked merchant ship, the mercenaries gained control of the capital, but failed to capture the President.
Gayoom, who had earlier faced two abortive coups d'état, sent out an urgent appeal for help to the US, the UK and India. Prime Minister Rajiv Gandhi having taken an instant decision, the Indian armed forces had launched "Operation Cactus", within nine hours of receiving the Maldivian SOS. Paratroops were landed in Hulhule airport by IAF strategic airlifters and soon regained control of the capital Male. Indian warships and naval aircraft undertook a dramatic high-seas chase of the hijacked merchantman and captured the fleeing rebels and mercenaries. The British Prime Minister, Margaret Thatcher, is reported to have commented: "Thank God for India; President Gayoom's government has been saved."
Sixteen years later, the Maldives faced another dire emergency; this time, caused by nature's fury, and put out an urgent appeal for help. The Great Asian Tsunami hit the Maldives on December 26, 2004.
An archipelago of 1,200 coral islands, spanning roughly 115 square miles, Maldives is Asia's smallest nation, both by area and population (less than half a million inhabitants). Most of Maldives is so low that the tsunami surge sent sea-water sweeping over nearly the entire nation. Again, it was the Indian Navy which reached out to our stricken neighbours, in spite of the catastrophe on India's own eastern seaboard. Within hours, Indian warships arrived off Male and began to deliver relief by helicopter and boats.
Climate change looms over us, and rising sea levels could lead to similar crises in the future, leading to mass migrations. India's expeditious response in 2004 was meant to carry reassurance to the Maldivians that they were not alone in their hour of need.
The ongoing political turmoil in Maldives has placed India on the horns of a dilemma. Now, President Abdulla Yameen has not only coerced his country's Supreme Court into retracting its directive to release political prisoners but also placed the Chief Justice under arrest and declared a state of national emergency. It is possible that he may be within his rights to do all this, and the first round, therefore, goes to him.
However, Mohammad Nasheed, the first democratically elected Maldivian President, currently in exile, termed the declaration of an emergency as being "tantamount to martial law… and illegal and unconstitutional". He has openly called for India's diplomatic and military intervention through "physical presence" and this could be seen by many as adequate justification or even an invitation for an attempted "regime change" in the island republic.
But India needs to tread with extreme caution in this sensitive area because the developments, so far, in the Maldives are a domestic issue and remain within the ambit of the nation's "internal affairs". Both conventional wisdom and recent experience confirm that foreign-imposed regime changes, overt or covert, are doomed to failure. They not only fail to attain the objectives for which they are undertaken, i.e., improvement in bilateral relations, but invariably lead to domestic resentment and bitter opposition to the foreign-imposed leader. India needs to wait and watch how the Maldivian public and world opinion react to developments, before deciding its course of action.
What also needs to be kept in mind is a Chinese statement on Wednesday indirectly cautioning India against intervening in the Maldives, saying any outside "interference" in the country's political crisis would "complicate" the situation. China also denied allegations that Maldivian President Abdullah Yameen had its backing and said Beijing follows the principles of non-interference in other countries' domestic affairs.
"The current situation in the Maldives is its internal affair. It should be properly resolved through dialogue and consultation by relevant parties," said a Chinese Foreign Ministry spokesperson, adding a veiled warning; "The international community should play a constructive role based on the (principle of) respecting the sovereignty of the Maldives instead of taking actions that may complicate the current situation."
India, apparently, started to lose the plot in the Maldives in 2012, when the Male airport modernisation contract with the Indian infrastructure giant GMR was aborted by the Maldivian government, which then handed over the project to a Chinese company. Although the subsequent arbitration tribunal held that the agreement was wrongfully repudiated by Maldives, India lost both "face" and influence in the island nation. The resignation of President Nasheed, under duress, the same year, caught India napping and coincided with the substantive rise of Chinese leverage in Maldives. This must be considered yet another failure of Indian diplomacy in our neighbourhood.
As the strategic competition between India and China in the Indian Ocean gathers pace, we must be prepared to face such situations more frequently. Instead of complaining about China's farsighted maritime enterprises like the Belt & Road Initiative or military enclaves like Gwadar and Djibouti, we need to craft a creative and dynamic strategy to counter them.
After Indian Navy's sterling performance in the 2004 tsunami relief effort, the island neighbourhood has high expectations of maritime assistance — in terms of hardware, training and security. Denied a corpus, by the Ministry of External Affairs as well as Ministry of Defence, for extending quick assistance to neighbours, the navy has been denuding its own inventory by transferring patrol boats, ships, aircraft and helicopters to boost the security of friendly neighbours and keep them out of the Chinese maw. Such a situation needs to be speedily remedied.
As a post-script, a few statistics related to "time and space" may provoke some thought amongst both Maldivian and Indian decision-makers; not just in the immediate context, but also from a long-term "realpolitik" viewpoint. From Male, the nearest Chinese port, Haikou (Hainan), is 2,700 miles as the crow flies and 3,400 miles by sea. An aircraft would take 7-8 hours to cover this distance, overflying three countries, and a ship would take 8-10 days to reach Male. Compare this to the flying time of just over an hour, and sailing time of a little over 24 hours to cover the 500 miles between Male and the nearest Indian port/airport of Kochi.