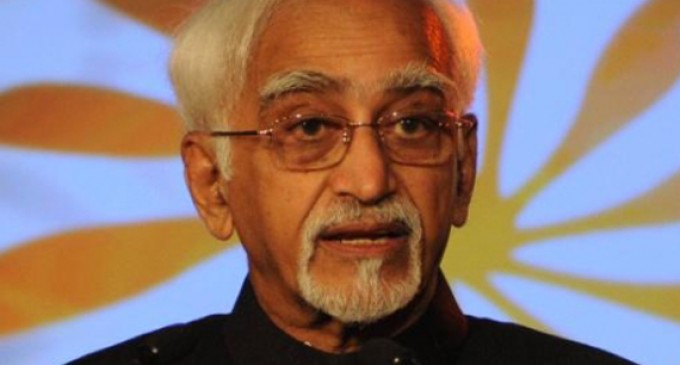 New Delhi, Dec 10 (IANS) Indian Vice President Hamid Anasari will on Friday leave for a three-day visit to Turkmenistan where he will attend the much-delayed TAPI (Turkmenistan-Afghanistan-Pakistan-India) gas pipeline ground-breaking ceremony.
He will also attend a conference in connection with the 20th anniversary of the permanent neutrality of Turkmenistan, Secretary, West, Navtej Sarna told the media here on Thursday.
Though the visit is not strictly a bilateral one, attempts are on to hold bilateral talks soon after Ansari'a arrival in Turkmen capital Ashgabat on Friday evening but "nothing has been finalised yet", he said.
On Saturday, Ansari will lay a wreath at the Monument of Neutrality in Ashgabat.
Following this, he will address a conference on the policy of permanent neutrality which will also be attended by several other visiting leaders, including Pakistani Prime Minister Nawaz Sharif.
Thereafter, Turkmen President Gurbanguly Berdimuhamedow will host a lunch for the visiting dignitaries.
In Ashgabat, Ansari will also pay respects to a bust of Mahatma Gandhi that Prime Minister Narendra Modi had unveiled during his visit to the Central Asian nation in July this year.
The ground-breaking ceremony will be held on Sunday, near the city of Mary.
Conceived in the 1990s, initially Turkmenistan, Afghanistan and Pakistan signed a framework agreement to implement the ambitious project after a meeting in Islamabad in 2002 and the preliminary feasibility studies were done by the Asian Development Bank (ADB).
"The Indian government requested the ADB for joining the project as an official member in 2006," Sarna said, adding it became a permanent member during the 10th steering committee meeting in 2008.
Among several preliminary agreements, the inter-governmental agreement and the gas pipeline framework agreement were worked out in 2010, and the gas sales and purchase agreement in 2012. Turkmenistan was trying to find a consortium leader and was in talks with several international petroleum majors.
According to Sarna, the negotiations did not work out following which Turkmenistan itself decided to become the consortium leader.
As for investments in the project, Sarna said that Turkmenistan was now working on the process of making preliminary arrangements by which, in due time, it will reach a "final investment decision".
As for the gas prices, he said that though indicative prices were worked out, now several things have changed.
"This will no doubt have an impact on the prices. Also, international oil prices are in a fairly volatile state," he said, adding that the final pricing and other details would be worked out "as we go along".
He described India's relationship with Turkmenistan as a very important as it was a strategically located country.
The two countries also have an agreement on security and counter-terrorism training.
Cultural links between the people of the two countries were also strong, Sarna said.