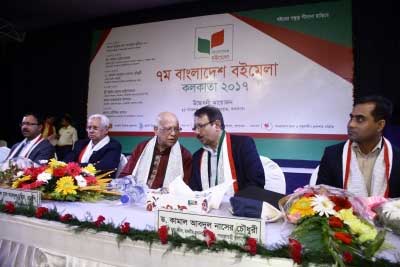 Kolkata, July 24 (IANS) Pointing out that trade figure between the two countries have increased manifold in recent years, Bangladesh High Commissioner Syed Muazzem Ali on Monday said Indian investors should set up large-scale "buy-back projects" in Bangladesh for better connectivity with the Northeast and other neighbouring countries.
Speaking at a seminar "Bangladesh's Graduation from LDC: Prospects of Bangladesh-India Economic Engagement" here, the envoy said such projects, on the lines of US-Canada and US-Mexico, would benefit the investors and further boost the trade relations between the two countries.
"Indian investors can set up industries in Bangladesh as 'buy-back projects' and re-export to parts of India and some other neighbouring countries. The connectivity of Northeast is somewhat disjointed with Indian mainland. If production units can be set up in Bangladesh, it would provide easy access to Northeast," Ali said.
"Similar equations exist between US-Canada and US-Mexico as well that has helped Canada and Mexico to emerge as two of the largest trading partners of the USA in a very short time. If they can do it, India can do the same in Bangladesh," he said.
Stressing on more connectivity between the two countries, Ali mentioned about commissioning of Akhaura to Agartala 18-km railway stretch, which will provide the Northeast India easy access to Chittagong port.
"Once the railway connectivity is successful, the export materials of entire northeast India would be able to reach the Chittagong port within two-and-half hours. It would become the access point of the north-eastern port to the outside world," he noted.
He also said Bangladesh has offered three exclusive economic zones in Mongla, Bheramara and Mirsarai for Indian investments.
Referring to the growing trade relation between India and Bangladesh, he said the trade figure crossed six billion USD in 2016-17, while there has been agreements for Indian investment worth USD 13 billion in Bangladesh during his country's Prime Minister Sheikh Hasina's visit to India in April 2017.
The envoy further said Bangladesh has currently relaxed its visa regime and is providing five years' visa to the veterans, freedom fighters and businessmen from India and noted that his country's administration is working towards providing visa for longer period.
Hailing Bangladesh for being the only country to have achieved all three criteria — Gross National Income, Human Asset Index and Economic Vulnerability Index — for graduating from a Least Developed Country (LDC) to a developing country, he said the nation has to work hard for the next three years to be permanently declared as a developing country in 2021.