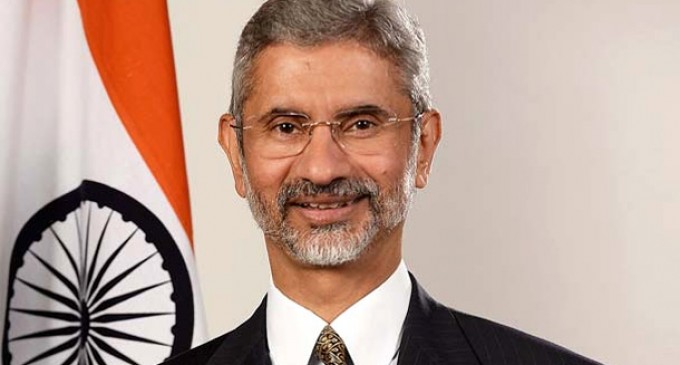 New Delhi, Feb 28 Indian Foreign Secretary S. Jaishankar begins his 'yatra' of four SAARC countries from Sunday, with Bhutan as the first stop, in a major push to the Indian government's neighbourhood outreach.
Jaishankar, who took over Jan 28, travels to Bangladesh March 2, Pakistan March 3 and Afghanistan the following day.
His schedule to the rest of the South Asian Association for Regional Cooperation (SAARC) neighbours – Sri Lanka, Maldives and Nepal – will be announced later.
The schedule was announced days after Prime Minister Narendra Modi tweeted Feb 13 that Jaishankar would be leaving on a SAARC yatra.
Modi had also spoken to his Pakistani counterpart Nawaz Sharif to convey his best wishes for the ICC World Cup.
His Pakistan visit would see Jaishankar hold talks with his counterpart Aizaz Ahmad Chaudhry — in a major move seeking to normalise bilateral ties that have seen a low over the past few months over Islamabad hobnobbing with Kashmiri separatists and the ceasefire violations leading to fatalities.
India had called off the foreign secretary-level talks in August last year after the Pakistani envoy in India held talks with Kashmiri separatists, ignoring India's objections.
His visit to the region comes even as India is pushing ahead with a sub-regional connectivity project with Bangladesh, Nepal and Bhutan to provide seamless transit of passenger, personal and cargo vehicles among the four SAARC nations.
In early February, senior officials from India, Bangladesh, Bhutan and Nepal met at Raichak near Kolkata to finalise a Motor Vehicles Agreement (MVA) for a seamless transit of passenger and cargo vehicles between their countries and draw up plans for its speedy implementation.
The sub-regional pact is a parallel initiative to the proposed SAARC transport agreement for which ongoing efforts to find early resolution would continue.
India has said membership of the sub-regional agreement would be open to all other neighbouring countries, should they so desire.
Pakistan had refused to sign the MVA during the Kathmandu SAARC Summit in November last year, citing the need for it to be ratified by its parliament.
India is also planning an electricity grid among the SAARC nations. India and Bangladesh are already connected with a power grid. The grouping of Bangladesh, Bhutan, India and Nepal (BBIN) had last month discussed the scope for power trade and inter-grid connectivity.
Jaishankar's visit to Bangladesh comes as the country has been rocked by continuing political unrest, spurred by the opposition Bangladesh Nationalist Party-Jamaat.
A prominent Bangladesh-American blogger and writer Avijit Roy was hacked to death by Islamists in Bangladesh Friday, triggering condemnation.
India and Bangladesh have also inched closer to inking the Land Boundary Agreement for swap of enclaves within each other's territory.
Modi is likely to go on a bilateral visit to the two key Indian Ocean neighbours of Maldives and Sri Lanka in mid-March, during which he is to be accompanied by the foreign secretary.
Modi had visited Nepal twice last year, one a standalone bilateral visit and the second for the SAARC Summit in Kathmandu.
Modi had kicked off his neighbourhood diplomacy on the day of his swearing-in May 26 last year, by inviting the leaders of the South Asian countries, including Mauritius, to the event. He had also interacted with each leader briefly the following day.