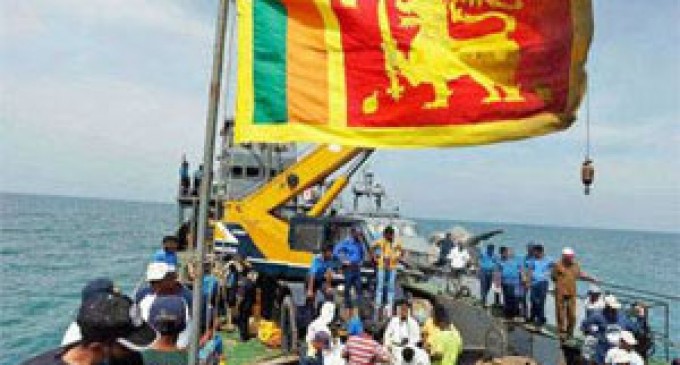 India to Make Diplomatic Efforts to rescue its fishermen
By Our Diplomatic Correspondent
New Delhi, October 31 The  Indian Government will appeal against the judgment of a court in Sri Lanka sentencing five Indian fishermen to death on alleged charges of drug peddling. .
Syed Akbaruddin, the spokesman of the Ministry of External Affairs,  said the Indian High Commission in Colombo will appeal to a higher court against the judgement of the Colombo High Court. New Delhi, he said, feels the fishermen are not guilty and will pursue all legal processes to prove their innocence.
The Colombo High Court sentenced Thursday five Indians and three Sri Lankans to death on charges of drug smuggling. The eight accused were taken into custody for heroin drug running in 2011.
The Indian fishermen from Rameswaram – P Emerson, P Augustus, R Wilson, K Prasath, and J Lanklet – were arrested by the Sri Lankan Navy in November 2011. They claim that they have been falsely implicated in the case and their lawyers have said they would file an appeal in the Supreme Court against the sentence.
The fishermen were remanded earlier in a prison in Jaffna, and were later jailed at the maximum security Welikada Prison in Colombo.
The Sri Lankan court's verdict has triggered violent protests in the fishing hamlets of Rameswaram, indian newspapers report. The protesters have removed about a kilometer of railway track and torched a bus cutting off the traffic between Rameswaram and the mainland, the news reports claimed.
Sri Lankan President had earlier ordered officials to release all the fishermen arrested by the Sri Lankan Navy as a goodwill gestures but that order covered only the fisherman arrested for poaching in Sri Lankan waters.
Meanwhile, Tamil Nadu Chief Minister O Panneerselvam strongly condemned the Sri Lankan court's  death sentences on  Indian fishermen. In a letter to Prime Minister Narendra Modi, he condemned the conviction terming it as "Unjust" and maintained that  Tamil Nadu government  had consistently insisted the fishermen were innocent. False  cases had been foisted on them and evidence against them were fabricated.