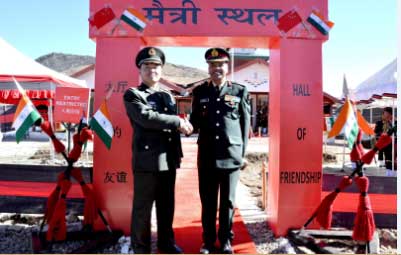 Jammu, Jan 27 (IANS) A ceremonial border personnel meeting (BPM) was held on Friday between the Indian and Chinese armies in Ladakh region to mark India's 69th Republic Day, with both sides stating they will work to uphold the agreements signed between the two countries.
An official statement said the ceremonial border personnel meeting at Daulat Beigh Oldi (DBO) and Chushul in the Ladakh region was marked by saluting the national flag of India by the members of delegations from both sides.
"This was followed by a ceremonial address by the delegation leaders. Delegations at both places interacted in a free, congenial and cordial environment.
"The delegations parted amidst feeling of friendship and commitment towards enhancing the existing cordial relations and maintaining peace along the Line of Actual Control (LAC)," the statement said.
The ceremonial BPMs are held on the national days of both sides.
The two sides also sought to build on the mutual feeling to uphold the treaties and agreements signed between the governments of the two sides to maintain peace and tranquility along the LAC, it added.
BPMs are held between India and China at five points — Daulat Beg Oldie in northern Ladakh, Kibithoo in Arunachal Pradesh, Chusul in Ladakh, Bum-La near Tawang in Arunachal Pradesh and Nathu-La in Sikkim.
On India's Independence Day last year, the meeting was not held after China did not respond to a communication from the Indian side over holding the meeting.
India and China were involved in a two-and-a-half month- long stand-off along the borders last year.