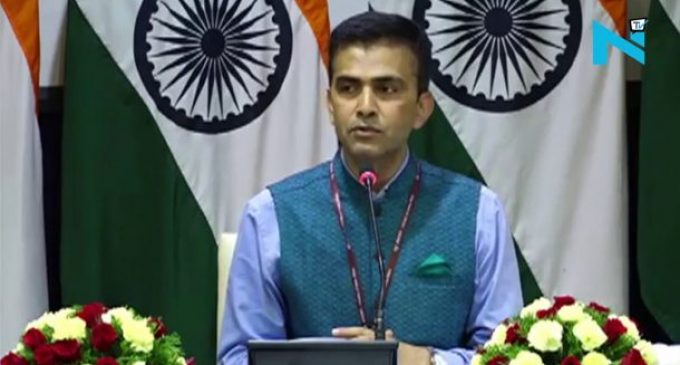 New Delhi, Nov 23 (IANS) After Pakistan offered to allow a meeting between Kulbhushan Jadhav, the Indian national who was sentenced to death by a Pakistani military court on allegations of espionage, and his wife, India has said that Jadhav's mother should also be allowed to accompany his wife, a senior official said on Thursday.
"You are aware that there was a longstanding request from the mother of Kulbhushan Jadhav to visit Pakistan and meet her son," External Affairs Ministry spokesperson Raveesh Kumar said at his weekly media breifing here.
"Although this request was pending, India still responded positively to the offer made by Pakistan to arrange a meeting of Kulbhushan Jadhav with his wife," he said.
"In our response, we have said that the wife of Jadhav would like to travel along with her mother-in-law for the meeting."
Kumar said that New Delhi has "also sought sovereign guarantee from the government of Pakistan to ensure safety, security and well-being of the wife and the mother of Jadhav and during their stay in Pakistan they shall not be questioned, harassed or interrogated while they are there".
"We have further asked that a diplomat from our High Commission in Pakistan in Islamabad shall be allowed to accompany them at all times, including during the meeting which the wife and the mother with Kulbhushan Jadhav," the spokesperson said.
Pakistan claims Jadhav is a serving Commander of the Indian Navy and was working for India's premier intelligence agency, Research and Analysis Wing (RAW). Islamabad says he was apprehended by law enforcement agencies on March 3, 2016, in Balochistan after he illegally crossed over into Pakistan from Iran. India has said Jadhav is a former navy officer and denied he was working for RAW.
Jadhav was sentenced to death earlier this year by a Pakistani military court. However, the International Court of Justice ordered a stay in his execution.
New Delhi has repeatedly sought consular access to Jadhav, but Islamabad has denied permission on the ground that such access in cases related to spies was not applicable.
In a sudden move, Pakistan on November 10 informed India that it would be willing to allow a meeting between the "self-confessed spy" and his wife "on humanitarian grounds".
Kumar, during Friday's briefing, also said that Islamabad's meeting offer "also does not absolve Pakistan of the violations of the Vienna Convention on consular relations and human rights and not following the due process in treating Jadhav who remains incarcerated in Pakistan and faces death sentence through a farcical process and on concocted charges".
"While the government hopes that Pakistan would facilitate visit by the wife and the mother of Jadhav, we are determined to pursue all measures with full vigour so as to secure the final release of an innocent Indian who is jailed in Pakistan," he added.
Source : Sarkaritel.com