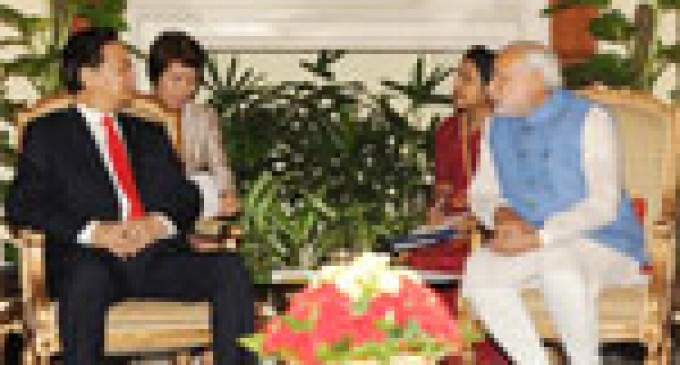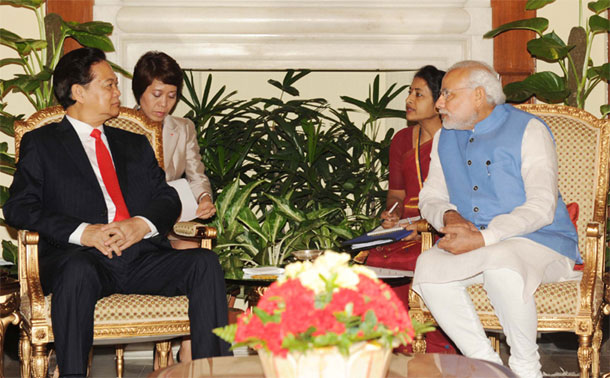 New Delhi, Oct 28 India and Vietnam Tuesday ramped up cooperation in exploring for oil and gas in the contested South China Sea, ignoring Chinese objections, as Prime Minister Narendra Modi said Hanoi is at the forefront of his government's intensified engagement in Asia Pacific after holding talks with his visiting Vietnamese counterpart Nguyen Tan Dung.
Both sides inked seven agreements, including between ONGC Videsh Limited and PetroVietnam for exploration of two oil and gas blocks in Vietnam.
Vietnam has earlier offered India five hydrocarbon blocks in the South China Sea for exploration. India Tuesday agreed to take up two of the blocks for exploration.
ONGC Videsh Ltd, the overseas arm of state-owned Oil and Natural Gas Corp, signed an agreement to pick up to 50 percent stake in PetroVietnam's two exploration blocks in the South China Sea.
Appearing before the media after the bilateral talks, Prime Minister Modi said: "Since entering office, my government has promptly and purposefully intensified our engagement in the Asia Pacific region, which is critical to India's future. It is no surprise that Vietnam has been at the forefront of our efforts."
Both sides have also agreed to intensify defence cooperation. India has already extended a $100 million Line of Credit to Vietnam and also offered to sell four naval patrol vessels.
Modi termed the bilateral defence cooperation with Vietnam "among our most important ones" and said India "remains committed to the modernization of Vietnam's defence and security forces", which would include expanding the training programme, joint exercises and cooperation in defence equipment.
"We will quickly operationalise the $100 million Line of Credit that will enable Vietnam acquire new naval vessels from India. We have also agreed to enhance our security cooperation, including in counter-terrorism."
While Modi touched upon the discussions on promoting regional peace and stability, saying both sides have "shared interest in maritime security, including freedom of navigation and commerce and peaceful settlement of maritime disputesa, Prime Minister Dung was more expansive.
He said his country "reaffirms its support for India's Look East Policy towards Southeast Asia as well as India's increasingly important role in the region and the world at large".
Stressing both sides stood for maintaining maritime stability and security of lines, Dung mentioned the South China Sea specifically. Vietnam and China have been at odds over maritime rights with Beijing laying claim to the entire stretch of the resource-rich sea and its islands.
Dung said both are for resolving maritime disputes in the South China in accordance with international law and seriously implementing the Declaration on the Conduct of Parties in the South China Sea and for early formulation of a code of conduct in the South China Sea.
"Vietnam highly appreciated India's position regarding the East Sea issue and India's continued cooperation with Vietnam in oil and gas exploration and extraction in the exclusive economic zone and continental shelf of Vietnam in the East Sea (Vietnamese term for South China Sea)," he said.
In a tangential reference to China, the joint statement said that both agreed that "freedom of navigation and overflight in the East Sea/South China Sea should not be impeded and called the parties concerned to exercise restraint, avoid threat or use of force and resolve disputes through peaceful means in accordance with universally recognized principles of international law".
Both sides have also agreed to boost economic ties to $15 billion by 2020 from the $8 billion at present.
Bank of India is to open a branch in Vietnam and direct air connectivity is slated to begin early next month with Jet Airways and Vietnam Airlines linking the two countries, giving a boost to economic and people-to-people connectivity.
Modi has also invited Vietnamese companies to join in the 'Make in India' programme.
Both sides agreed to continue cooperation in the peaceful use of nuclear energy and explore cooperation in space, including satellite launches.
Dung invited Modi to visit Vietnam. The offer was accepted and the dates will be finalized later.
Among the agreements inked are on establishment of Nalanda University, an MoU on restoration of ancient Hindu temples at My Son, a World Heritage site in Quang Nam province and on setting up a centre for English Language and Information Technology Training at the Telecommunications University.
Dung began his two-day visit from Monday when he visited Bodh Gaya in Bihar and offered prayers at the Mahabodhi temple.
His visit is the third high-level visit after that of President Pranab Mukherjee, who paid a state visit to Vietnam in mid September and External Affairs Minister Sushma Swaraj who was in Hanoi August end