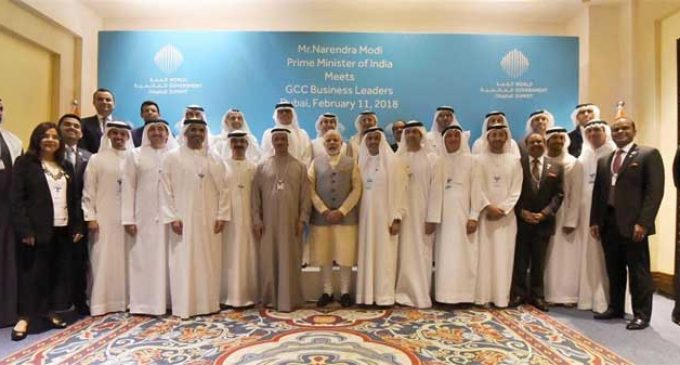 Abu Dhabi, Feb 11 (IANS/WAM) Prime Minister Narendra Modi's second visit to the UAE has resulted in an Indian consortium gaining stake for the first time in Abu Dhabi's massive oil resources.
An MoU was signed here on Saturday between an Indian consortium comprising state-run explorer ONGC Videsh, Bharat PetroResources, Indian Oil and the Abu Dhabi National Oil Co (Adnoc) for acquisition of 10 per cent participating interest in its offshore Lower Zakum Concession.
Abu Dhabi is a constituent of the United Arab Emirates (UAE), which is a member of the Gulf Cooperation Council (GCC). The UAE is one of the largest suppliers of crude oil to India and is also the 10th largest investor.
The MoU is an important milestone in India's search for energy security, at a time when oil prices have started hardening again mainly due to output cuts put in place by the Organisation of Petroleum Exporting Countries (OPEC) and non-OPEC producers deal deal with a supply glut that was pushing down prices till last year.
The consortium, led by India's ONGC Videsh, contributed a participation fee of Arab Emirates Dirham (AED) 2.2 billion ($600 million) to enter the concession. The concession will be operated by ADNOC Offshore, a subsidiary of ADNOC, on behalf of all concession partners.
The agreement, which has a term of 40 years and an effective date of March 9, 2018, was signed here on Saturday by ONGC Chairman Shashi Shanker and ADNOC Group Chief Executive Sultan Ahmed Al Jaber.
According to a statement from ONGC's oversea arm, current production at the Lower Zakum field is about 400,000 barrels a day, while the plan is to increase the target to 450,000 barrels a day by 2025.
Adnoc's offshore fields currently produce about 1.4 million barrels a day, an Adnoc statement said.
Increased production from its offshore reservoirs is part of the state-run company's plans to raise its onshore and offshore output capacity to 3.5 million barrels a day by the end of 2018, it added.
The company also said it had received more than 10 bids from firms seeking to operate these offshore fields. This agreement will enable Adnoc to cater to a part of India's massive oil demand, over 80 per cent of which is met by imports.
On Saturday, Adnoc also signed an agreement with the Indian Strategic Petroleum Reserves Ltd to implement the strategic crude oil storage facility on India's western coast in Mangalore (Karnataka) for the storage of 5.86 million barrels of Adnoc crude in underground facilities.