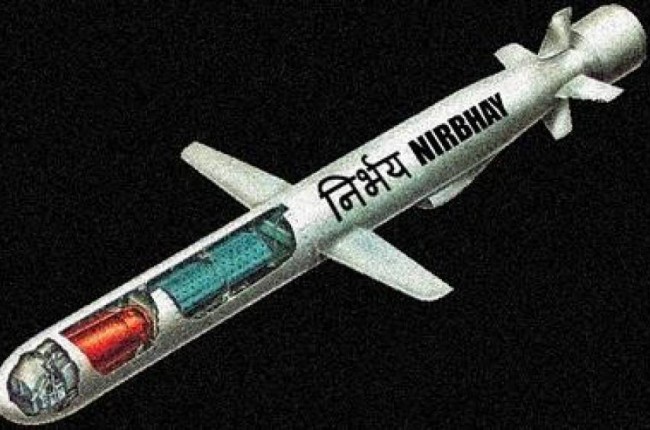 Bhubaneswar, Oct 17 India Friday successfully test-fired its indigenously-developed nuclear-capable sub-sonic long-range cruise missile 'Nirbhay' that can hit a target 1,500 km away.
The missile was test-fired from the Integrated Test Range (ITR) at Chandipur in Odisha's Baleswar district.
The missile has a capacity to hit targets at a distance of 1,500 km and was successfully test fired at 10.03 a.m. Friday, said B.K. Das, additional director of Chandipur Integrated Test Range.
"We have achieved a great feat by successfully testing this missile. It would help immensely in future," said Das.
Prime Minister Narendra Modi congratulated Indian scientists on the successful test-firing of the missile and described it as a "great impetus to our defence capabilities".
This is the second developmental trial of the missile. Its first test was March 12, 2013, but it could not achieve all the desired parameters as the flight had to be terminated mid-way when deviations were observed from its intended course.
Das said Nirbhay covered a distance of over 1,000 km during its 73.12 minute flight during Friday's test.
DRDO is developing an air-launched version of the 1,500-km-range Nirbhay sub-sonic cruise missile which would be capable of being fired from the air force's frontline Su-30MKI combat aircraft, sources said.
Nirbhay is being developed by the Aeronautical Development Establishment (ADE), a DRDO lab in Bangalore.