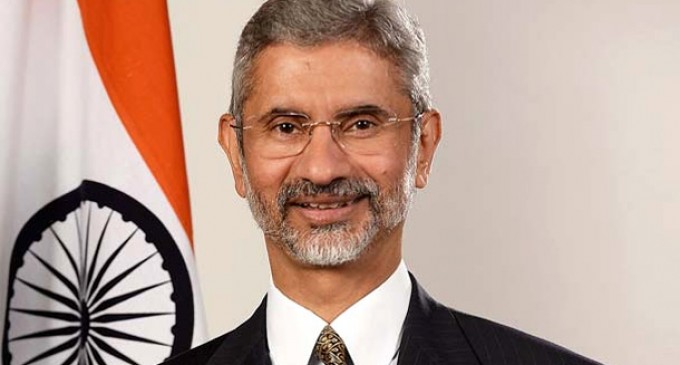 Victoria/New Delhi, Jan 29 (IANS) In a significant step to New Delhi's quest for influence in the Indo-Pacific region, India has signed an agreement with the Indian Ocean archipelago nation of Seychelles for the development, management, operation and maintenance of facilities on Assumption Island.
The island in Seychelles is leased to India for the operation of a naval base and air strip by the Indian navy.
Foreign Secretary S. Jaishankar and Seychelles Secretary of State Barry Faure signed the agreement on Saturday.
"Relations with countries in the Indian Ocean Region and nurturing a climate of peace and stability are important cornerstones of India's foreign policy," Jaishankar said following the signing of the agreement.
"Our vision for the region is based on cooperation and collective action to tackle maritime security challenges."
Jaishankar referred to Prime Minister Narendra Modi's remarks during his visit to the Seychelles in March 2015 when the latter said that India's goal was to seek a climate of trust and transparency, respect for international maritime rules and norms by all countries, sensitivity to each other's interests, peaceful resolution of maritime issues, and increase in maritime cooperation.
"We seek a future for Indian Ocean that lives up to the name of Sagar – an acronym that stands for Security And Growth for All in the Region", Jaishankar said.
Sagar is an Indian initiative to have a positive effect on sea-borne trade.
India, after leasing Assumption Island, began preparations for infrastructure development, including quarters for the Seychelles Coast Guard and fixing the airstrip on the remote island where there is very little human activity.
India and Seychelles have had cooperation in the field of defence and maritime security for many years, which has seen India helping to patrol the Seychelles waters and gifting several equipment to the Seychelles People's Defence Forces (SPDF).
During Modi's 2015 visit, India announced gifting of a second Dornier surveillance aircraft to the Seychelles Coast Guard to increase maritime security. India gifted Seychelles its first Dornier in 2013.
India and the Seychelles had inked an agreement in the course of that visit to develop infrastructure on Assumption Island, which lies 1,140 km southwest of the mainland of Mahe, and is one of the 115 islands that constitute Seychelles.
Jaishankar said that India and Seychelles have over the years built an elaborate architecture of defence and security cooperation.
"As two maritime neighbours, we have a stake in each other's security and safety. Seychelles with its Exclusive Economic Zone (EEZ) spread over 1.3 million square km is particularly vulnerable," he stated.
"Recognising this, India and Seychelles have drawn up a cooperation agenda that covers within its purview shared efforts in anti-piracy operations, and enhanced EEZ surveillance and monitoring to prevent intrusions by potential economic offenders indulging in illegal fishing, poaching, drug and human trafficking."
The Foreign Secretary said that the India-Seychelles cooperation was further exemplified by the operationalisation of the Coastal Surveillance Radar System in March 2016, "and our commitment to augment defence assets and capability of Seychelles".
"We are proud of the role played by patrol ships Topaz, Constant and Hermes and the Dornier aircraft in securing the resource rich waters of Seychelles," he stated.
"In recognition of our strategic convergence in the Indian Ocean region, the agreement that we sign today is an important step forward in the further deepening of our cooperation in the spirit of our unique bilateral ties," he added.