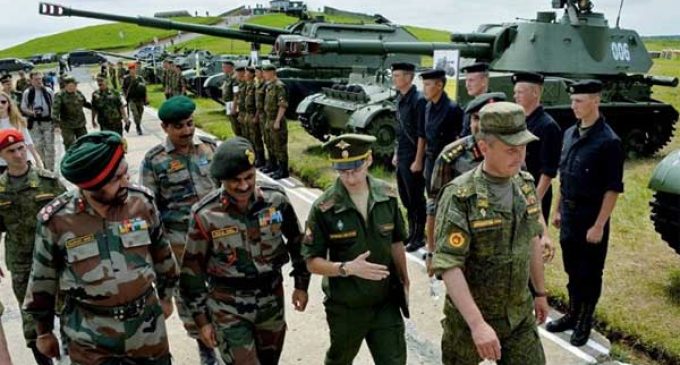 New Delhi, Oct 20  The India-Russia annual joint military exercises called INDRA is set to begin on Friday, officials said on Thursday.
This year, all three services are involved in the 10-day exercises being conducted in Russia.
The indigenously built Indian Naval ships INS Satpura and INS Kadmatt on Thursday reached Vladivostok Port.
The rest of Indian contingent comprising of army and air force personnel had reached Vladivostok on Wednesday in IL-76 aircraft of the Indian Air Force.
The Defence Ministry, in a statement, said the INDRA-2107 will be "a landmark event in the history of Indo-Russian defence cooperation".
Scheduled to be conducted at the 249th Combined Army Range Sergiyevisky and in the Sea of Japan near Vladivostok, it is the first tri-service bilateral exercise between the two countries.
In its previous nine editions, INDRA has been conducted as a single service exercise alternately between the two countries.
The Indian contingent is comprising 350 personnel from army, 80 from air force, two IL 76 aircraft and one Frigate and Corvette each from the navy.
Russia will be represented by approximately 1,000 troops of the 5th Army, marines and ships of Pacific Fleet and aircraft from Eastern Military District, an official release said.
"INDRA-2017 will serve towards strengthening mutual confidence and interoperability as well as sharing of the best practices between the armed forces of both the countries," the statement said.
"The joint tri-service exercise will be a demonstration of the increasing commitment of both nations to address common challenges across the full spectrum of operations," it added.