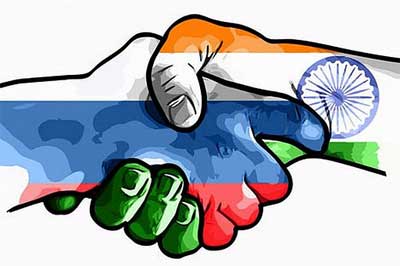 New Delhi, Dec 25 (IANS) India and Russia on Saturday discussed cooperation in areas including energy and technology, Prime Minister Narendra Modi said on Saturday following a meeting of the India-Russia Inter-Governmental Commission on Trade, Economic, Scientific, Technological and Cultural Cooperation (IRIGC-TEC) here.
"Had a productive meeting with the Deputy Prime Minister of Russia, Dmitry Rogozin," Modi tweeted.
"This year saw increased high-level exchanges between India and Russia, which benefits our nations. We discussed cooperation in areas including energy and technology."
In the joint statement in June this year in St. Petersburg following the annual India-Russia bilateral summit between Modi and Russian President Vladimir Putin, both sides welcomed cooperation among energy companies in modernising the existing power stations and building new ones in India.
"We will endeavour to develop joint projects in each other's countries through sharing of technologies, experience of working in different terrains and climatic conditions, and use of energy efficient technologies for creation and propagation of cleaner, climate friendly and affordable energy resources," a joint statement said.
Following Saturday's IRIGC-TEC meeting co-chaired by External Affairs Minister Sushma Swaraj and Rogozin, the External Affairs Ministry said the Commission assessed the progress on issues concerning the most significant aspects of bilateral economic cooperation such as trade, economy, investment, industry, energy, transport, agriculture and space.
Both sides decided to create working groups on agriculture and pharmaceuticals, and "to actively promote inter-regional cooperation which has significant untapped potential for cooperation".
A decision to expedite implementation of a green corridor for exchange of pre-arrival data between customs administrations of the two countries was also reached.