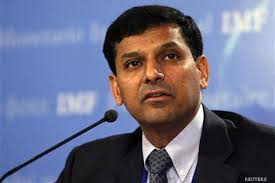 By TN Ashok / Energy Editor
New Delhi, June 17: – India is prepared to face any external shock that may arise from the Iraq crisis even as a spurt in oil prices pushes up inflation, growth and budget risks confront the new Modi led BJP government of the NDA coalition.
RBI Governor Raghuram Rajan today allayed fears of markets of any fallout from the Iraq crisis wherein terrorists groups had captured three cities defeating nationalist forces and were marching to Baghdad. "India is better prepared to deal with external shocks than last year, " he said on the side-lines of an industry event in Mumbai today.
"We have sufficient reserves, the current account deficit is low. So I think one shouldn't worry too much about the external side at this point," Rajan said.
The rupee tanked to 60.55 to a dollar Tuesday, its lowest since April 29, on rising crude prices and increasing geopolitical tensions centred on Iraq. International media reports indicated that Brent crude futures rose by around US $3 over the past week, during which Islamic militants had taken control of three cities of northern Iraq.
The reports further indicated that the United States was contemplating air strikes and also hold talks with former arch-enemy Iran to bolster the Baghdad government.
India's foreign exchange reserves rose to $314 billion as of May 9, the highest since November 2011 as RBI reinforced its ability to defend the rupee, before falling to $313 billion as of June 6.
India imports nearly four million barrels per day (bpd) of crude oil – of which more than half a million bpd come from Iraq. Any big increase in India's oil import bill could undermine progress in reducing the current account deficit. Pressure could also mount on Finance Minister Arun Jaitley as he prepares to present next month a final budget for the fiscal year ending March 2015.
India spends US $24 billion a year on diesel and cooking fuel subsidies. A one-dollar rise in the oil price would add $1.3 billion to its annual subsidy bill, a senior finance ministry official estimates.
Modi had warned he would administer "bitter medicine" to restore India's economy to health. The economy is in its most prolonged slowdown since the late 1980s, pressuring public finances. Jaitley has also pledged to uphold fiscal discipline, without saying whether he would revise the budget deficit target inherited from his predecessor of 4.1 percent of gross domestic product for the 2014/15 fiscal year.
After wholesale price inflation rose to a five-month of high in May of more than 6 percent, Jaitley vowed to crack down on "speculative hoarding" responsible for steep rises in prices of farm produce.