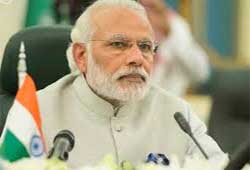 London, April 20 (IANS) Indian Prime Minister Narendra Modi on Thursday pitched India's interest for the development of small island nations at the Commonwealth Heads of Government Meeting (CHOGM) here.
Briefing the media here, Ruchi Ghanashyam, Secretary (West) in the Indian External Affairs Ministry, said that Modi's participation at CHOGM conveyed India's interest in the development of the small island nations.
On the sidelines of the summit, Modi met leaders of several of the island nations of the Indian Ocean, the Caribbean and the Pacific.
India has been increasingly reaching out to these island nations given their vulnerability in the face of climate change and their stakes in the blue economy.
"A large number of the Commonwealth nations are small island nations," Ghanashyam said.
According to her, Modi during the two executive sessions across the day, said that India will help these nations through the National Institute of Oceanography in Goa.
Another important offer that Modi made that invoked interest was that, through the Board of Control for Cricket in India (BCCI), India will help train 30 boys and 30 girls under the age of 16 from the Commonwealth nations to undergo training in cricket.
According to Ghanashyam, the Commonwealth leaders' discussions during the day focused on four areas: democracy, international treaty rule, attaining the UN's Sustainable Development Goals (SDGs), and security concerns.
Earlier on Thursday, Modi attended the opening ceremony of this year's CHOGM, becoming the first Indian Prime Minister to attend this biannual event since 2009.