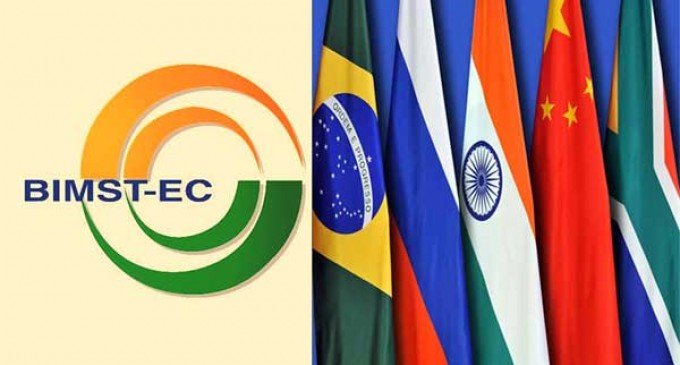 New Delhi, Feb 8  India has offered member states of the Bimstec regional grouping important initiatives in a number of key sectors, including counter-terrorism efforts and boosting regional transportation, the External Affairs Ministry said in a statement on Tuesday.
According to the statement, the 17th Bay of Bengal Initiative for Multi-Sectoral Technical and Economic Cooperation (Bimstec) Senior Officials Meeting, held in Kathmandu on Tuesday, marked an important step forward to realise the agenda for the bloc agreed by the leaders at their retreat hosted by Prime Minister Narendra Modi in Goa in October last year.
The member states of Bimstec are Bangladesh, Bhutan, India, Myanmar, Nepal, Sri Lanka and Thailand.
"India, as the lead country in the areas of counter-terrorism and trans-national crime, environment, transport and tourism sectors, offered several important initiatives in these areas," the statement said.
"In keeping with the high priority Bimstec members attach to combat terrorism and trans-national crime, it was agreed that India would host the first ever meeting of Bimstec national security chiefs to discuss action against spread of terrorism, violent extremism and radicalisation," it stated.
"India would also be hosting an international conference on countering radicalisation."
In order to boost regional connectivity, India will also organise a meeting of the working group to finalise the Bimstec Motor Vehicles Agreement.
A memorandum of understanding (MoU) on grid interconnection has also been finalised to facilitate electricity trade in the region, according to the statement.
"The Trade Negotiating Committee would shortly take up trade and trade facilitation matters," it stated.
"Given the region's vulnerability to natural calamities, India would organise the first annual disaster management exercise."
A task force on traditional medicine has been created that will meet in India to work on strengthening the role of traditional medicine for holistic health care.
India will also organise a network of Bimstec tour operators to boost tourism through measures such as composite tour packages.
The meeting in Kathmandu also discussed progress in several other key Bimstec initiatives in trade and investment, energy, technology, fisheries, climate change, culture, people-to-people contacts and other sectors.
"In keeping with the strong commitment of members to Bimstec, progress is to be reviewed in the meeting of Foreign Ministers to be hosted by Chair Nepal in June later this year," the statement said.
"This meeting would also make preparations for the Bimstec summit to be hosted later this year."
With the South Asian Association for Regional Cooperation (Saarc) not making much progress in its set agenda due to non-cooperation by Pakistan in several key areas, India is giving more importance to the Bimstec regional bloc.