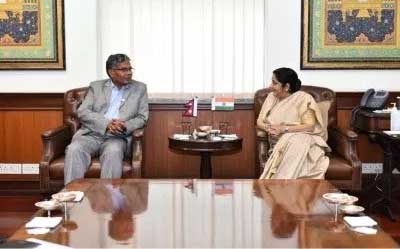 New Delhi, March 20 (IANS) As part of India's bid to reach out to the new dispensation in Nepal, External Affairs Minister Sushma Swaraj on Monday held a meeting here with visiting Industry, Commerce and Supplies Minister Matrika Yadav and discussed ways to take forward bilateral trade and the developmental aid partnership.
"Leaders discussed ways to take our trade, commerce and developmental partnership forward," External Affairs Ministry spokesperson Raveesh Kumar tweeted.
India is Nepal's largest trade partner and the largest source of foreign investments, besides providing transit for almost the entire third country trade of Nepal.
It accounts for over two-thirds of Nepal's merchandise trade, about one-third of trade in services, 46 per cent of foreign direct investments, almost 100 per cent of petroleum supplies and a significant share of inward remittance on account of pensioners and workers.
Indian firms are the leading investors in Nepal, accounting for about 40 per cent of the total approved foreign direct investments.
There is also an established mechanism between the two countries to take forward cooperation in the hydropower sector.
India is the leading development aid partner for Nepal focusing on creation of infrastructure at the grass-root level, under which various projects have been implemented in the areas of infrastructure, health, water resources, education and rural and community development.
Monday's meeting comes after the Left coalition came to power following last year's parliamentary and local body elections in the Himalayan nation.
While K.P. Sharma Oli's Communist Party of Nepal-Unified Marxist-Leninist (CPN-UML) won the largest number of seats, the CPN-Maoist Centre, led by former Prime Minister Pushpa Kamal Dahal "Prachanda", seen as a good friend of India, became the second largest party.
Monday's meeting between Sushma Swaraj and Yadav can be seen as a part of New Delhi's efforts to reach out to Kathmandu given Oli's pro-China image. Yadav is a standing committee member of the CPN-Maoist Centre.
Last week, Sushma Swaraj also made a phone call to congratulate her newly appointed Nepalese counterpart Pradeep Gyawali.
In her congratulatory letter, she expressed confidence that India-Nepal partnership will be further strengthened during his tenure," Kumar said, adding that she also invited Gyawali to visit India.