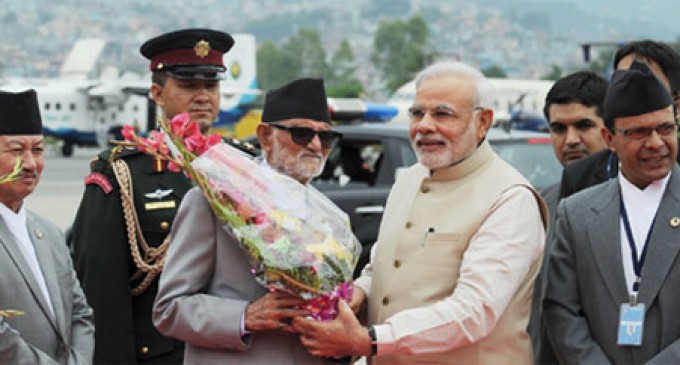 Kathmandu, Aug 3 India and Nepal opened talks here Sunday, hours after Prime Minister Narendra Modi arrived to a rousing welcome on a two-day visit tipped to deepen relations between the two close neighbours.
Modi and his Nepalese counterpart Sushil Koirala met for one-on-one discussions which a cabinet source told IANS would cover a range of issues including bilateral and regional matters.
After their 30-minute meet, delegation level talks between the two countries began.
Modi is the first Indian prime minister to undertake a bilateral visit to the Himalayan kingdom in 17 years.
Officials in both countries say the visit is bound to strengthen relations between India and Nepal besides erasing some of the known irritants.
Modi will later Sunday address Nepal's parliament — in Hindi.
In a clear indication of a new warmth in relations, Prime Minister Koirala broke protocol to receive Modi at the Tribhuvan International Airport.
After getting off an Indian Air Force plane, Modi warmly shook hands with Koirala before accepting a bouquet from him.
Among those present at the airport were Deputy Prime Ministers Bamdev Gautam and Prakash Man Singh, parliament Speaker Subas Chandra Nembang and several ministers including Foreign Minister Mahendra Bahadur Pandey.
As Modi stepped on the red carpet, the military presented a guard of honour and a 19-gun salute. The national anthems of both countries were played.
Thousands of Nepalese armed with paper flags of India and Nepal lined up both sides of the two-kilometre route from the airport to Hyatt Regency in Kathmandu where Modi will stay.
Many were clearly interested in taking a close look at Modi, who became prime minister on May 26 and has made Nepal his second foreign destination after Bhutan.
Several welcome arches were erected on the airport-hotel route. Educational institutions will remain shut Monday when Modi will visit the famed Pashupathinath temple before flying home.
Modi quickly got down to business after his arrival.
His first act was to re-unite Jeet Bahadur Saru Magar, a young Nepalese who has been under Modi's care for 17 years, with his family.
The emotional event took place at Hyatt Regency where the boy's brother and sister were present.
"Family reunion! Thanks to Narendra Modi, a happy reunion for Jeet Bahadur and family," the Indian external affairs ministry said.
The Indian leader offered condolences over a landslide that has killed eight people in Nepal.
"I am excited about my visit and pleased that I am able to go there within weeks of assuming office as prime minister," Modi said in a pre-departure statement Saturday.
"We will identify steps to strengthen our bilateral cooperation in key sectors, including trade and investment, hydro power, agriculture and agro-processing, environment, tourism, education, culture and sports," Modi said.
"I will also discuss with the Nepalese leadership and their business leaders how we can harness the full potential of the new digital age to empower and create new opportunities for the youth of the two countries."