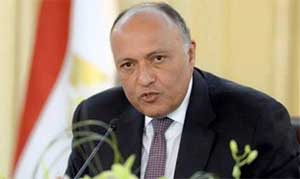 New Delhi, March 23 (IANS) India has traditionally been supportive of peace and stability in the Middle East and should play a more active role in the region, Egyptian Foreign Minister Sameh Shoukry saud on Thursday.
Answering a question after delivering a speech on "Regional Developments and Prospects of India-Egypt Relations" organised by the Vivekananda International Foundation think tank here, Shoukry said that "India has traditionally taken positions supportive to the stability and security of the region of the Middle East and has never been in conflict with the principles" there.
"Definitely, with the stature of Prime Minister (Narendra) Modi and that of India warrants that it is a more active participant and player in the international scene whether in the Middle East or elsewhere," he said.
Shoukry, who will co-chair with External Affairs Minister Sushma Swaraj the India-Egypt joint commission meeting here on Friday, said that India "enjoys the confidence of the states of the region and its people".
"There are similarities culturally and historically that bind us," he said.
"I believe that the Indian experience is close to that of the region in terms of efforts against colonisation and the same challenges that we all face whether it is terrorism or increasing the standards of living of our people or fulfilling the security and stability necessary for pursuing economic reform and achieving our developmental goals."
The Egyptian minister said that India is recognised for its accomplishments under its economic development programmes "and raising multitudes of its citizens into the middle class, in the development of its industrial base and its technologies".
"We look to India to support Egypt through direct investments for the mutual benefit of both countries.
"We have a complementarity but also a comparative benefit that can be added for India because of our location, because of the Suez Canal corridor and the developmental investment opportunities and facilities that will be provided as Egypt is the gateway to Africa with its 1.3 billion inhabitants and also the Middle East.
"So it is a cooperative relationship that is of mutual benefit to both the countries. We look to gain from the technological advances in many sectors in India and India has been generous in that its cooperation has always been with the transfer of technology unlike others of our partners in the West," he said.
With Modi's standalone visit to Palestine last month, the first ever by an Indian Prime Minister, Shoukry said that "India has a principled position as to the legitimate rights of the Palestinian people and its weight in international relations is very important".
"Its involvement and as an active interlocutor in what is internationally recognised that the two-state solution is the end of the conflict, that advocacy in itself, being able to communicate, being an interlocutor to all the participants provides Prime Minister Modi a very special ability to move the process forward and encourage the participants to the values of peace and stability and to open new doors of cooperation with all," he said.
Regarding Friday's joint commission talks, Shoukry said that both sides will discuss with great attention to enhance political, economic, cultural and military ties.
"There is going to be a wide range of topics that we will address," he added.