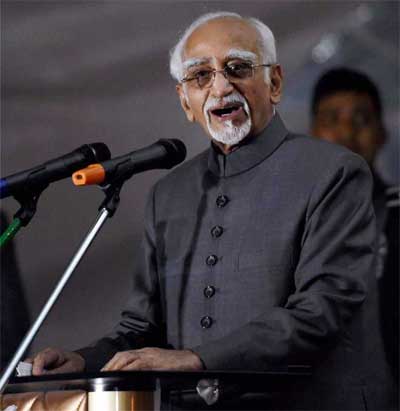 Bamako (Mali), Sep 30  Observing that global issues like international terrorism, climate change and proliferation of weapons of mass destruction were gaining prominence, Indian Vice President Hamid Ansari on Friday advocated reforms in global political, economic and security institutions.
Addressing the Mali National Assembly here, Ansari said an early adoption of the Comprehensive Convention on International Terrorism (CCIT) was essential for strengthening international normative regime on terrorism.
"The salience of global cross-cutting issues is rising and these cannot be resolved by a handful of powerful countries or even through regional efforts. These issues include climate change, global public health challenges, drug-trafficking, trafficking of humans, proliferation of weapons of mass destruction and international terrorism. There are newer domains of cyber security and space security as well," said Ansari.
"Active participation of large and populous countries like India and those in Africa, becomes indispensable in resolving such global issues. That is why India advocates reforms in global political, economic and security institutions. They must become more democratic, inclusive and representative of our world," said the Vice President.
Ansari said many of the global institutions "do not yet give voice to Africa or the world's largest democracy, constituting one-sixth of humanity".
He called terrorism to be the biggest threat to the world.
"We in India face it from across our borders. Terrorist actions cannot be justified on any grounds. India is of view that international and cross-border terrorism should be dealt in a comprehensive manner," he said.
He said India's relations with Africa were driven by the aim of empowerment, capacity building, human resource development, access to Indian market, and support for Indian investments in Africa.
"We will certainly raise our partnership to a much higher level in the years ahead. We will also make our partnership more effective, based on a comprehensive review of our Development Partnership programme with Africa, particularly in terms of capacity building, infrastructure support and technology sharing, in discussion with our African partners," he added.