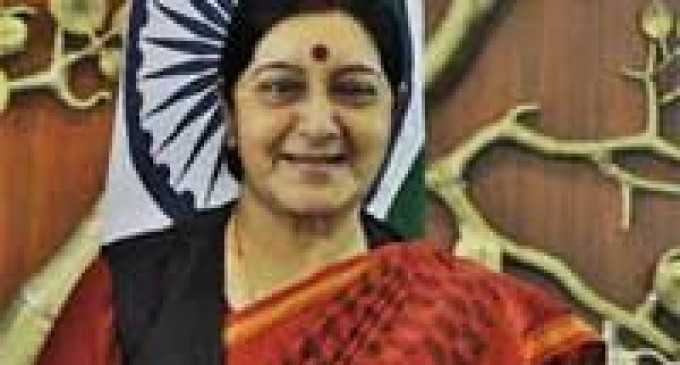 New Delhi, Oct 9 (IANS) Trade between India and the Latin American and Caribbean region has shown impressive growth – standing at $46 billion – up from $2 billion in 2000, said External Affairs Minister Sushma Swaraj but said while the growth in impressive, it is not commensurate with the potential that exists.
In an address to Latin American dignitaries, she said that India has a Preferential Trade Agreement with MERCOSUR (South America's leading trading bloc, known as the Common Market of the South) and with Chile.
"Our investment is estimated to be around $20 billion, principally in IT sector, automobile parts, mining and hydrocarbons.
"While the figures I have quoted may seem impressive, I firmly believe that the level of trade and investment between India and LAC countries is not commensurate with the potential that exists," she said at an event attended by dignitaries from Costa Rica, Uruguay, Cuba, Guatemala, Mexico and Nicaragua.
She said the "Latin American region offers a market for Indian products such as pharmaceuticals, leather, automobile parts, engineering goods, textile, Information Technology among others. On the other hand, the LAC region offers oil and gas, minerals and metals, cereals, pulses, oil seeds, soya, fresh fruits and many other products".
"It is clear that our economies complement each other. We must find ways to fully utilize the opportunities that exist between us as a result of these complementarities. Geographical distance should not be a barrier in this, especially in the age of globalization and new technology," she said at an India-LAC Conclave organized by industry chamber CII.
Sushma Swaraj invited the Latin American and Caribbean countries to participate in the initiatives of the government, like Make in India, Digital India, Skill India, 100 Smart Cities project and Clean Ganga Mission.
She said India has held interactions at the ministerial level with the three major regional groupings, namely, the Community of Latin American and Caribbean States (CELAC), Central American Integration System (SICA), and Caribbean Community (CARICOM).
"Last week, I had the opportunity to interact with the foreign ministers of CARICOM countries and CELAC Quartet Foreign Ministers on the sidelines of UNGA in New York," she said.
She raised three issues, of terrorism, climate change and reform of the UN Security Council.
On terrorism, she sought their support for the Comprehensive Convention on International Terrorism at the UN. On climate change, she said India has already announced its Intended Nationally Determined Contributions (INDCs) on climate change and "we hope that a comprehensive, balanced and equitable agreement will be reached at COP-21 in Paris later this year".
On reform of the UN Security Council, she said expansion of the UNSC in both the permanent and non-permanent categories is an imperative.