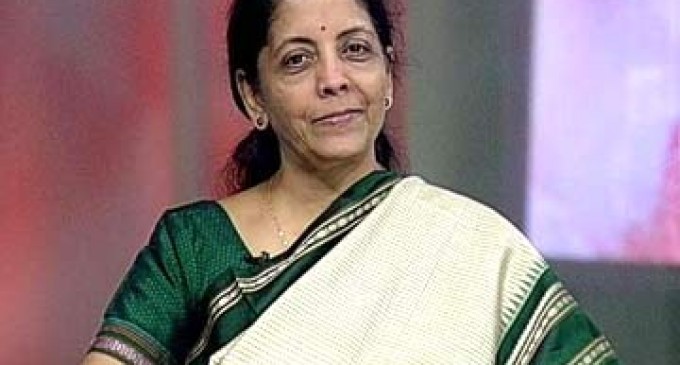 Latin American Biz Conclave Launched by FICCI
By TN Ashok     / Economics and Diplomatic Editor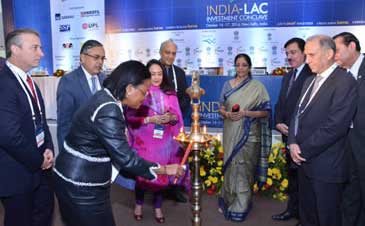 NEW DELHI, October 16, 2014: Two way trade between India and Latin American countries is likely to double to US $ 84 billion by 2020 from the current US $ 42 billion if serious efforts are made to explore greater avenues for EXIM trade and investments.
Expressing this hope, India's Commerce Minister, MS Nirmala Sitharaman today said: "The current bilateral trade volume in which India exports are about half of the total imports from the LAC region is not reflective of the potential which we
could collectively achieve by broad-basing our trade and economic ties and by diversifying the basket of traded goods and services."
Doubling the trade figures in the next five years should be our collective goal and bilateral investments, she said opening FICCI's conclave on Latin American countries here.
The importance that the LAC region attached to partnerships with Indian companies can be gauged from the fact that over 350 business persons and policy makers from India and LAC countries attended, with Argentina, the partner country, itself coming in with over a delegation of 100 businessmen. The conclave witnessed participation from 23 countries of LAC region.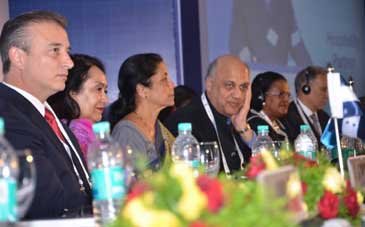 Also, present on the dais were Mr. Sergio de la Torre, Minister for Economy, Guatemala, Ms. Marie Carmelle Jean Marie, Minister for Finance, Haiti,
Mr. Alden Rivera Montes, Minister for Economic Development, Honduras,
Mr. Alvaro Baltodano, Minister for Investment Promotion & Foreign Trade, Nicaragua
Dr. Jyotsna Suri, Senior Vice, President, FICCI, and Dr. A Didar Singh, Secretary General, FICCI.
The Minister said that over 100 Indian companies have invested in excess of USD 15 billion in Latin America in sectors such as energy, IT, pharmaceuticals, sugar, agrochemicals, electrical products, mining, metals, vehicles, auto parts,
cosmetics and plastics. Likewise, Latin American companies have invested a total of slightly less than US$1 billion in India in steel, multiplexes, bus assembly, auto parts and electrical motors.
"The figures say it all. A firm commitment from the policy makers and business leaders alike from both India and Latin American countries would immeasurably steer the collective vision towards its intended goals of quantitatively and
qualitatively improving our trade, economic and investment relations," Ms. Sitharaman said and urged the delegates to derive maximum benefits from number of business dialogues lined up during the course of the conclave.
She said that FICCI, being an apex industry association in India, along with 'Invest India', its joint venture with Department of Industrial Policy & Promotion (DIPP), Government of India, is best suited to support the businesses in forging partnerships.
"I am of the firm opinion that our perspective and how we are going to assess the emerging scenario would go a long way in transforming challenges into opportunities, insurmountable issues into realized goals and abiding India-LAC
economic and cultural relations into building blocks. This will also help our trade, economic and cultural relations to blossom and realize their hitherto unexplored potential," the Minister declared.
Ms. Sitharaman assured the delegates that the Government of India would ensure easy and hassle-free business environment and listed out the areas from investment from LAC region. There were opportunities alone in the National Investment Manufacturing Zones (NIMZ) for infrastructure developers, equipment suppliers and
manufacturers, she said and added that the industrial corridors in this country would open up avenues for investment in smart cities.
She expressed optimism that the conclave would afford an opportunity to transform the initiative into an institutionalised platform, thereby inviting and suitably informing the potential investors on "Why" India and LAC region should be the natural business partners in the decades ahead.
On the occasion, the Minister released the FICCI-Accenture Knowledge Paper on 'India-Latin America & Caribbean: Talking Business'. The paper specifically recommends a three-fold approach for doing business with India. One,
Finding a reliable and talented local partner at the very early stages of investment, two, become conversant with local cultures and business practices and raise awareness of government programmes and government agencies that can
facilitate bilateral investment cooperation and three, consider LAC and India as not just standalone markets, but as platforms for tapping a wider market in their neighbourhoods.
Mr. Sidharth Birla, President, FICCI and Chairman, Xpro India Ltd., in his welcome remarks said, "The landmark initiative by FICCI, under the guidance and support of the Government of India, is aimed towards opening new windows of engagement and opportunities between India and Latin America and the Caribbean region. Thanks to the process of intense engagement with all LAC missions in India and FICCI's partners in LAC countries, this conclave has received an overwhelming response."
He said, "The LAC region is home to around 600 million people, accounts for a combined GDP of about US$ 12 trillion (PPP basis), and received US$ 179 billion of FDI in 2013, the highest record for any region in the world. India, with a
GDP of US$ 5.5 trillion (PPP basis) and a 1.25 billion strong market is also set to see a quantum jump in inward FDI over the next few years.
"Our new government has embarked on a proactive agenda of good governance, economic growth and deeper economic engagement globally and regionally and we are at the cusp of a take-off. "Mr Birla said.
Speaking about the growing business relation between India and LAC region, Mr. Birla said, "Be it crude or edible oil, pharmaceuticals or textiles, engineering goods or automobiles, aircraft or software, India and the LAC nations are moving steadily towards building trade and investment bridges, which is expected to culminate into a diversified partnership between emerging markets."
Mr. Rakesh Bakshi, Convener of India-LAC Conclave 2014 and Chairman & Managing Director, RRB Energy, said that India-LAC Investment Conclave has turned out to be biggest-ever business conclave. This can become an annual
feature if the outcome of the ongoing conclave is encouraging, which seems quiet probable as more than 350 delegates are participating and numerous B2B meetings are lined up during the course of the two-day conclave. He added that with enhanced business, the India-LAC region bond is bound to strengthen.
In his presentation on the knowledge paper, Mr. Avinash Vashistha, Chairman, Accenture India, said that the biggest takeaway from the research is that there are a plethora of opportunities available for investors in traditional strongholds such as food processing and infrastructure and in emerging sectors like renewable energy and urban resource management. This journey to prosperity, although rewarding, is going to be a challenging one. Businesses will need to manage cultural and regulatory complexities as well as diverse demand- and supply-side realities.
We recognize that if operational barriers are not overcome in a timely manner, they may become structural barriers that could constrain the collaborative growth opportunities, he said.