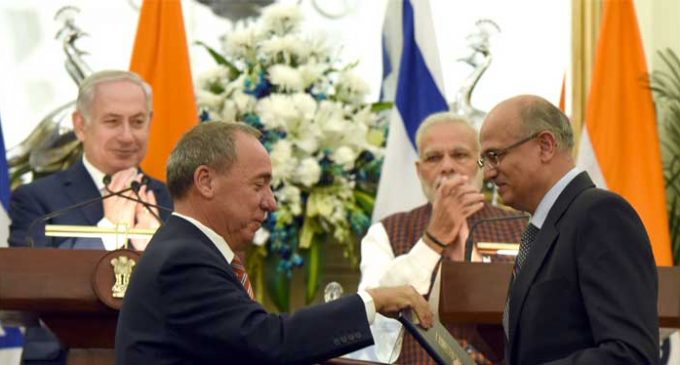 New Delhi, Jan 15 (IANS) India and Israel on Monday signed nine agreements, including in the areas of cyber security and oil and gas, following delegation-level talks headed by Prime Ministers Narendra Modi and Benjamin Netanyahu here.
A memorandum of understanding (MoU) on cooperation in cyber security was signed which envisages cooperation in the field of cyber security to develop, promote and expand cooperation in the field of human resources development through various platforms and arrangements such as training programmes, skill development, and simulator-based hands-on training.
It also envisages collaborating in the field of cyber security resilience, promoting B2B cooperation in cyber security and facilitating industrial summits, according to the External Affairs Ministry.
A second MoU was signed between the Ministry of Petroleum and Natural Gas and Israel's Ministry of Energy in the oil and gas sector.
Through this MoU, both sides are looking to explore opportunities of long-term cooperative relationship and joint economic projects to enhance bilateral engagements in the field of oil and gas, including collaboration in upstream sector activities; research and development and technology; promoting institutional linkages between universities and research and development establishment for mutually beneficial collaboration; and in the area of start-ups.
A protocol between India and Israel on amendments to the air transport agreement was also signed which envisages entering into cooperative marketing arrangements, such as code share, bloc space or any other joint venture agreement for the purpose of operating the agreed services on the specified routes.
Another agreement was on film co-production between India and Israel. This envisages to establish a framework for encouraging all audio visual media output, especially the co-production of films for the benefit of the film industries of both countries and contribute to the economic growth of the film, TV, video and new media production for further development of cultural and technologies ties.
A third MoU between the Central Council for Research in Homeopathy, Ministry of AYUSH and the Centre for Integrative Complementary Medicine, Shaare Zedek Medical Centre of Israel, related to cooperation in the field of research in homeopathic medicine was signed.
It envisages cooperation in the field of Research in Homeopathic Medicine, inter alia including establishment of a joint working group.
Another MoU between Indian Institute of Space Science and Technology (IIST) and the Technion-Israel Institute of Technology for cooperation in the field of space was signed for cooperation in the areas of mutual interest in the field of space by establishment of joint working group for research, educational and training programmes.
A memorandum of intent was signed between Invest India and Invest in Israel for supporting and developing cooperation between the two sides through exchange of information on investment opportunities, relevant laws and regulations, policies and government initiatives.
Indian Oil and Israel's Phinergy Ltd signed a letter of intent for cooperation in the area of metal-air batteries.
This envisages to encourage joint research and development, deployment and manufacturing activities in the area of metal-air batteries for an array of applications like stationary energy storage systems and electric mobility solutions.
Another letter of intent between Indian Oil and Israel's Yeda Research and Development Co Ltd was signed for cooperation in the area of concentrated solar thermal technologies.
This intends to encourage joint research activities in the area of concentrated solar thermal technologies including concentrated solar power generation, solar fuels, solar thermal storage materials, technologies, systems and concepts.
Earlier on Monday, the Israeli Prime Minister was accorded a ceremonial welcome at Rashtrapati Bhavan here.
Netanyahu, accompanied by a 130-member business delegation, arrived here on Sunday on a six-day visit to India that will also see him going to Agra, Ahmedabad and Mumbai.
This is the first Prime Ministerial visit from Israel to India in 15 years after that of Ariel Sharon in 2003.