By Neelapu Shanti
In a bid to uplift the enduring strength for peace and prosperity, fifty Afghan youth participated in a recent event titled 'International Youth Conference for Peace in the New Delhi. The conference was organized by Afghanistan's Youth Parliament, India Foundation, Deputy Ministry of Youth-Afghanistan and United Nations (UN) Youth in close coordination with the Embassy of Islamic Republic of Afghanistan in New Delhi to mark Afghanistan's Youth year. The conference saw participation of youth from 50 countries across the globe.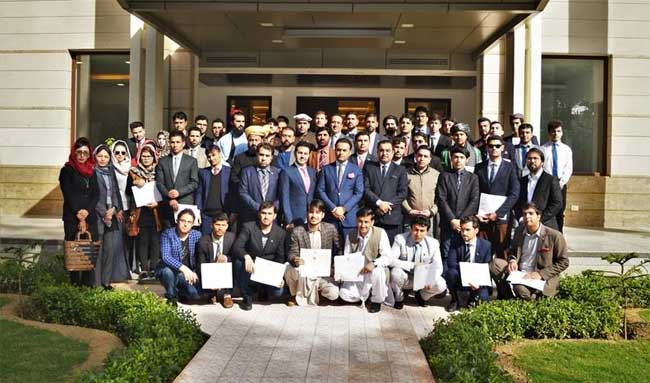 The aim of the conference was to build bridges and creating networks to share ideas, knowledge through engaging and inspiring sessions. The International Youth Conference for Peace has set a positive note for Afghan youth to share their views and visionary goals to achieve development and more importantly peace in their country. Fifty Afghan youth from Afghan Youth parliament, civil society, NGO's, Interior Ministry, Information and Cultural Ministry, Foreign Ministry took part in the conference. Their tremendous energy was seamless to fulfill moral obligations and invariably reaching out to people for thebetterment and development of their nation which is affected by prolonged civil war. Their spirit 'to do for the nation' is commendable. Their towering personality and glitter in their eyes were illuminated with visionary goals to achieve for their nation in bringing social, economic and political stability of Afghanistan.
"India is a democratic country, land of peace and mother of peace and we can learn and imbibe the principle" said, Allah Mohammad Kakar, President Central Youth Parliament Kabul.
Speaking to Kakar, one can draw their enthusiasm, their ideas for nation building. Afghan Youth Parliament was formed in 2016 and since its inception the teams have been putting giant effort to evade corruption, promoting women empowerment, human rights, education and welfare for the society. War like situation in Afghanistan has created instability but the undaunted spirit of the youth hasenvisioned in every aspect.In a very short span the Afghan youth had gained its momentum and appreciated by the Afghanistan government and the SAARC award for Youth parliament. The Afghan youth are working on various programmes sponsored by UNHCR, government and NGO's.
Dr. Shaida Mohammad Abdali, Afghanistan's Ambassador to India, acknowledged and up lifted the youth's spirit to work hard towards achieving peace and stability in Afghanistan, Dr. Abdali said, "Afghanistan was one of the very first countries along with India who incepted the non-violence movement, while this is the responsibility of our young generation to follow what our ancestors did 100 years back."
Afghanistan has the youngest population in the world.  The Afghanistan's youth policy is based on eight values "Preservation of and respect for national identity", "Provision for social justice"; "Protection of Afghanistan's religious values and cultural heritage will lead the bubbling enthusiasm of the youth to a positive direction.
In the last 10 years, Afghanistan's literacy rate has increased to around 38%. Women constitute 28% of the Lower House of Afghanistan's Parliament and 18% of the Upper House, including four women Cabinet ministers and nine female deputy ministers.
Young Afghans have made milestone achievements in sports. Afghanistan Football Federation won the award for aspiring member association of the Asian Football Confederation (AFC) for 2017.Cricket has a shed a great impact on Afghanistan society; which not only lead Afghan youth to the right destination but also played a great in the national unity. The six-member Afghan team won a special award at an international robotics competition in Washington.For the first time, a batch of 20 Lady Officers from the Afghan Army and Afghan Air Force is seekingtraining at Officers Training Academy, Chennai.
The members of the Afghan Youth Parliament were felicitated at the Embassy of Afghanistan in New Delhi and were awarded with certificates by Dr. Abdali.
The Government of Afghanistan is committed to fulfilling its responsibility to protect the rights of all youth and to addressing violations of youth's rights and have initiated a number of important steps at the national, regional and international levels. This includes the launch of a National Youth Programme, which reiterates commitment to seek to establish an opportunity for Afghan youth to fulfill their aspirations.
Bringing Afghan youth's role on the Indian forum has highlighted positive energy that is brimming with enthusiasm to work towards the betterment of their country.
Afghan Youth will be participating in the upcoming Youth Conference 2018-19 to be held in Dubai, Turkey, Germany and New York respectively.