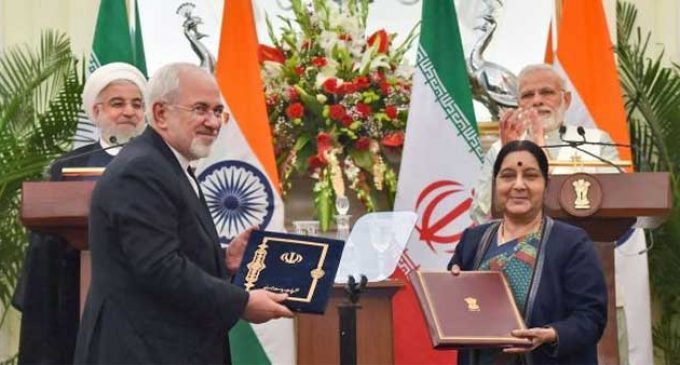 New Delhi, Feb 17 (IANS) India and Iran on Saturday pledged to stop the forces of terrorism and extremism, delinking it from religion and agreed that there should be an end to terror sanctuaries even as the two countries broad-based their relationship by signing nine agreements, including one on connectivity relating to the strategic Chabahar port.
Reflecting the deepening of ties between the two countries, visiting Iranian President Hassan Rouhani, who held one-on-one and delegation-level talks with Prime Minister Narendra Modi, said energy and transportation were two great potentials for building strategic cooperation between Iran and India.
In his remarks at a joint press conference with his guest, Modi spoke of the Sufi links between the two countries and the determination to tackle terror.
"People of both India and Iran believe in peace and tolerance drawing from the values of Sufi philosophy. Taking into account our mutual benefits, we are both committed to stop the forces of terrorism, extremism, illegal drug trafficking, cyber crime and other international crimes," Modi said.
Rouhani described terrorism as a problem not only for the entire region but for the whole world saying: "We must fight the roots of terrorism which are mainly intellectual and cultural stemming from promoting extremist, violent ideas and we are ready to cooperate with friendly countries, including India, in this field."
He said relations between India and Iran were "not detrimental to any country and there are vast opportunities and potentials to deepen ties between the two countries that must be taken the best advantage of to contribute to a better future for the two nations and the region".
A joint statement issued after the talks said the two leaders welcomed the growing interaction between their National Security Councils and agreed to enhance regular and institutionalised consultations between them and others concerned on terrorism, security and related issues such as organised crime, money-laundering, drug trafficking and cyber crime.
According to Deepak Mittal, Joint Secretary (Pakistan, Afghanistan, Iran), the two sides shared their concern over terrorism and agreed that this global menace cannot be linked to any religion.
"The two sides discussed both the regional and international situation," Mittal said while briefing the media after the talks.
"There was a unanimity between both sides that terrorism needs to be condemned and there should be an end to sanctuaries for terrorism," he said.
Modi congratulated Rouhani for his leadership in the development of the "golden gateway" of Chabahar port in Iran that has boosted connectivity to landlocked Afghanistan and Central Asian countries.
Rouhani said Chabahar port, as a bridge connecting India to Afghanistan, Central Asia and Eastern Europe can further strengthen historical ties between the two countries and the entire region.
"Transit ties between the two countries will create multilateral and regional potentials with the countries of the region and we are ready to have trilateral and multilateral agreements to turn the transit route from Chabahar into a strategic route for regional relations," he said.
Stressing that Iran can supply India's energy needs within the framework of long-term strategic contracts, the Iranian President said: "These long-term contracts in the fields of energy and transportation will make the two countries strategic and trustful partners."
During Modi's visit to Tehran in 2016, India, Iran and Afghanistan signed a trilateral agreement to jointly develop the Chabahar port. The first phase of the port became operational in December last when the first consignment of wheat from India to Afghanistan was sent through it, bypassing Pakistan.
Among the agreements signed on Saturday, one was a lease contract between Port and Maritime Organisation (PMO), Iran and India Ports Global Limited (IPGL) which envisages IPGL taking over the operations of a part of the area of the multipurpose and container terminal for a period of 18 months.
Modi assured India's support for the development of the Chabahar-Zahedan railway line to harness the full potential of the Chabahar port.
Apart from the one on connectivity, the other agreements signed included double taxation avoidance, an instrument of ratification that that brings into effect the extradition agreement that the two sides had signed in 2008 and cooperation in the areas of health, traditional systems of medicine and agriculture and allied sectors and establishment of an expert group on trade remedy measures.
In his address, Modi said that both India and Iran want to see their close neighbour Afghanistan as a "peaceful, secure, stable, prosperous and pluralistic country".
"We want to see our region and the world free of terrorism," he said.
He also said that both sides wanted to increase cooperation in the areas of economy, connectivity and energy while strengthening the age old cultural ties.
According to Mittal, the two sides discussed taking energy cooperation beyond the buyer-seller relationship.
Stating that a number of issues in this connection were discussed and some decisions taken, the Prime Minister said: "Whether it be tax or investment, effective banking channels or cooperation between trade bodies, we have taken several significant steps for the future."
The agreement on avoidance of double taxation aims at promoting flow of investment and services between the two countries.
Modi said that the talks also focused on people-to-people exchange, while noting that this continues between the students and intellectuals of the two countries.
"We also discussed solutions to the problems faced by fishermen and seafarers," he said
"We discussed cooperation in new areas like infrastructure, health, traditional medicine, agriculture, labour, entrepreneurship and communication."
Modi and Rouhani also released a joint postage stamp depicting the Kandla port in India and the Chabahar port.
Rouhani, who arrived here on Friday evening from Hyderabad, was a accorded a ceremonial welcome at the Rashtrapati Bhavan. This is the first presidential visit from Iran to India in 10 years.
Later, External Affairs Minister Sushma Swaraj also called on the visiting dignitary.