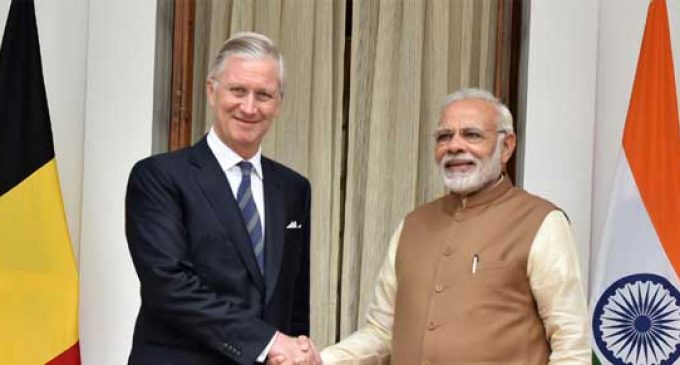 New Delhi, Nov 8 (IANS) India on Wednesday extended an invitation to Belgian industry to invest in the country pointing the progress made towards ease of doing business and said the government is committed to assist foreign companies in setting up their enterprise locally.
"India has just climbed 30 places in the World Bank's Ease of Doing Business rankings for 2017, while 90 per cent of FDI (foreign direct investment) comes into the country through the automatic route," Department of Industrial Promotion and Policy (DIPP) Secretary Ramesh Abhishek said at a seminar here, on the occasion of Belgian King Philippe's maiden state visit to India, organised by industry chamber CII and Belgium's Wallonia Trade and Investment Agency.
"Among other reforms, we have built up an Investment Promotion Board which is currently assisting in 500 specific deals worth $80 billion and it will handhold you in investin in India," he said, adding that the government had also abolished the Foreign Investment Promotion Board, which used to earlier screen FDI proposals for approval.
Abhishek also said the DIPP is another agency to facilitate foreign business working directly under the supervision of the Prime Minister's Office.
The King and Queen of the Belgians on their India visit are being accompanied by a business delegation of nearly 90 people comprising CEOs of Belgian companies.
In his address at the seminar attended by the Belgian King, Minister-President of the Walloon Government Willy Borsus noted how Belgium had a history of specialisation, particularly in the infrastructure industries and boasts of Europe's largest steel industry and the most dense railway network in the world in terms of per person/km.
"Arcelor Mittal is very active in Belgium," he said referring to the world's largest steel maker whose chairman is Lakshmi Mittal.
India is Belgium's second largest export destination and third largest trade partner outside the European Union.
Bilateral trade during the last financial year was worth $13.28 billion.
Earlier in the day, King Philippe attended the India-Belgium Business Forum here organised by CII.
Source : Sarkaritel.com