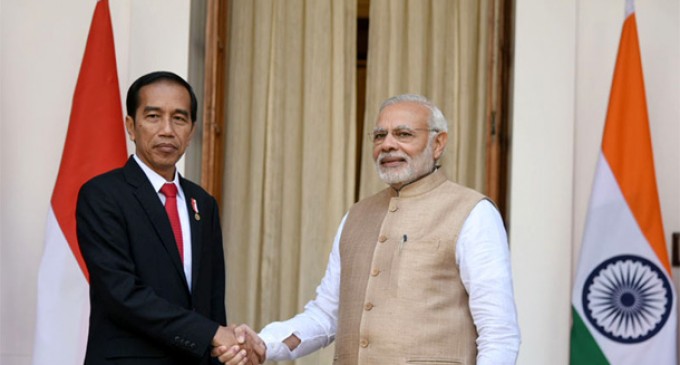 New Delhi, Dec 12 (IANS) In what can be seen as a message to China on its claims over the South China Sea, Prime Minister Narendra Modi on Monday said that India and Indonesia have agreed to ensure safety and security of the sea lanes while prioritising defence and security cooperation.
"My extensive conversation with President Widodo today focused on the full range of our cooperation," Modi said in a joint press conference with Indonesian President Joko Widodo following delegation-level talks between the two sides.
"We agreed to prioritise defence and security cooperation," he stated.
"As two important maritime nations that are also neighbours, we agreed to cooperate to ensure the safety and security of the sea lanes, in disaster response and environmental protection."
Modi said that a joint statement on maritime cooperation signed after Monday's talks outlined "the agenda of our engagement in this field".
"Our partnership will also extend to combating terrorism, organised crime, drugs and human trafficking," he stated.
Besides the joint statement on maritime cooperation, the two sides also signed two memorandums of understanding (MoUs) on cooperation in the areas of youth and sports, and standardisation.
The agreement on maritime cooperation assumes significance as several Southeast Asian nations have problems with China over the South China Sea.
In July, an international arbitration tribunal at the Permanent Court of Arbitration (PCA) ruled that China violated the Philippines' rights in the South China Sea, one of the busiest commercial shipping routes in the world.
The court accused China of interfering with the Philippines' fishing and petroleum exploration, building artificial islands in the waters and failing to prevent Chinese fishermen from fishing in the zone.
China reacted angrily, calling the verdict null and void with no binding force and that "China neither accepts it nor recognises it". But Beijing has since decided to go for bilateral talks with Manila.
Indonesia, the largest of the Southeast Asian nations, however, does not have any such issue with China.
In Monday's address to the media, Modi said that Indonesia was one of India's most valued partners in its Act East Policy.
"It is the largest economy in Southeast Asia. And, India is one of the fastest growing large economies in the world," he stated.
The Prime Minister said that he and President Widodo agreed to build a strong economic and development partnership that strengthened the flow of ideas, trade, capital and people between our two countries.
"I agreed with President Widodo to encourage Indian companies to work closely with Indonesia in the fields of pharmaceuticals, IT and software, and skill development," he said.
"As two developing countries, we also decided to move on infrastructure development two-way investment flows leveraging our respective capabilities."
Modi said that both sides agreed for early implementation of India-Association of Southeast Asian Nations (Asean) free trade agreement in services and investment, and finalisation of the Regional Comprehensive Economic Partnership.
"We also underscored the importance of deepening our two decades old valuable cooperation in the field of space," he stated.
He also welcomed Indonesian flag carrier Garuda Indonesia's decision to commence direct flights between Jakarta and Mumbai as it would help boost people-to-people contacts.
On his part, Widodo said that Indonesia wanted to increase bilateral trade ties and also diversify exports to India.
A joint statement issues after the talks said India and Indonesia discussed the threat posed by global terrorism and other transnational crimes and emphasised "zero tolerance" for terror acts.
Modi and Widodo condemned terrorism in all its forms and manifestations in the strongest possible terms and commended the working of a Joint Working Group on counter-terrorism, a joint statement issued here said.
The statement said the two leaders expressed "great concern" over the growing menace of terrorism and called upon all countries to implement the United Nations Security Council Resolution 1267 and other relevant resolutions on designating terrorist entities.
They called upon all countries to work towards eliminating safe havens and infrastructure for terrorists, disrupting terror networks and finance channels, and stopping cross-border terrorism.
Earlier in the day, Widodo, who assumed the presidency of Indonesia in October 2014, was accorded a ceremonial welcome at Rashtrapati Bhavan here.
He is accompanied by his wife Iriana Joko Widodo, the Ministers for Foreign Affairs, Trade, Industry, Investment, and Health and a very high-level business delegation which includes the President of Kadin, the premier business chamber of Indonesia.
This is the first presidential visit from Indonesia to India in nearly six years since the visit of then President Susilo Bambang Yudhoyono in January 2011.