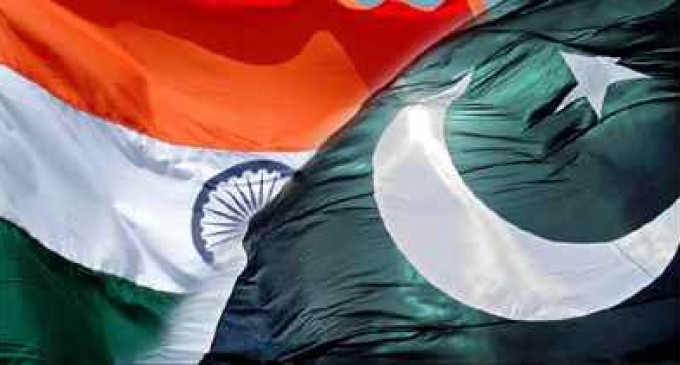 By TN Ashok   / Diplomatic Editor
New Delhi, Oct 14 : India today regretted that Pakistan was not serious even as it wanted a serious dialogue with it to resolve all outstanding issues, albeit within the framework of the Shimla accord and Lahore declaration.
Pakistan's recent actions such as sending a letter to the UN Security General on the Kashmir issue did not help matters or the Indo Pakistan dialogue to proceed further. "This will not work. India will not brook 3rd party intervention on India Pakistan relations. The route map is clear which runs from Islamabad to Lahore to Delhi. ", Syed Akbaruddin, India's spokesman from the Ministry of External Affairs told newsmen today answering questions.
India first wants Pakistan to deescalate tensions across the borders especially on the Jammu and Kashmir side. It must take steps to reduce violence across the borders, the spokesman said in an apparent reference to the shelling by Pakistan rangers from across the borders on civilians in Indian villages which led to death of civilians and their large scale migration to places of safety.
Meanwhile reports from Islamabad quoted Prime Minister Nawaz Sharif to say relations between Pakistan and India can only gain through dialogue. Nawaz said the United Nations resolutions must form the basis for any solution for Kashmir dispute and the people of Kashmir be made part of it. He was talking to US Senators Tim Kaine, Member of the Senate Armed Services Committee and Angus King, Member of the Senate Armed Services Committee, who called on him at the PM House.
Pak Premier wanted the UN to honour its own resolutions on this matter. Talking about Pakistan-India ties, the prime minister expressed his disappointment on the cancellation of foreign secretary level talks. He said the only acceptable solution of Kashmir will be the one which is endorsed by all parties, including Pakistan, India and Kashmiris.
Following renewed cross-border skirmishes between Pakistani and Indian forces, senior Pakistani military and political leaders have underscored the need for an immediate de-escalation, the reports said.
Prime Minister Nawaz on Friday presided over an emergency meeting of the National Security Committee (NSC) that makes decisions on key security issues, to discuss the situation arising from the border.
In an official statement issued at the conclusion of the NSC meeting, the leaders avoided harsh words and said, "It is the shared responsibility of the leadership of both countries to immediately diffuse the situation, reports from Islamabad said.
Media reports today claimed that Senior Pakistani and Indian military officials spoke to each other over hotline after intense cross-border skirmishes in the disputed region of Kashmir that had heightened tensions.
Pakistan said Friday that both countries shared a duty to defuse the situation, while India's foreign ministry maintained that "de-escalation is now entirely in Pakistan's hands".