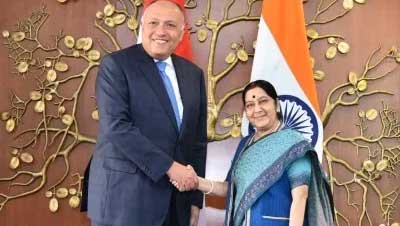 New Delhi, March 24 (IANS) As New Delhi continues to increase is engagements with the Arab world, India and Egypt on Friday discussed the entire gamut of bilateral ties here.
External Affairs Minister Sushma Swaraj and Egyptian Foreign Minister Sameh Shoukry co-chaired the seventh session of the India-Egypt Joint Commission Meeting.
"Both leaders discussed entire gamut of bilateral issues and also held deliberations on how to deepen and diversify the bilateral cooperation between India and Egypt," the External Affairs Ministry said in a statement.
"They also discussed regional, international and multilateral issues of mutual interest," it stated.
Shoukry later called on Prime Minister Narendra Modi and the two dignitaries "discussed the shared commitment of India and Egypt to strengthen bilateral engagement", the Prime Minister's Office (PMO) said in a statement.
"Deepening of cooperation in areas such as infrastructure, trade and investment and people-to-people relations was discussed," the PMO said.
India and Egypt share close political understanding based on long history of contacts and cooperation on bilateral, regional and global issues.
Friday's meetings assume significance given the importance being attached to India's role in the Middle East peace process.
On Thursday, Shoukry, delivering a speech on "Regional Developments and Prospects of India-Egypt Relations" organised by the Vivekananda International Foundation think tank here, said that "India has traditionally been supportive of peace and stability in the Middle East and should play a more active role in the region".
With Modi's standalone visit to Palestine last month, the first ever by an Indian Prime Minister, Shoukry said that "India has a principled position as to the legitimate rights of the Palestinian people and its weight in international relations is very important".
"Its involvement and as an active interlocutor in what is internationally recognised that the two-state solution is the end of the conflict, that advocacy in itself, being able to communicate, being an interlocutor to all the participants provides Prime Minister Modi a very special ability to move the process forward and encourage the participants to the values of peace and stability and to open new doors of cooperation with all," he said.