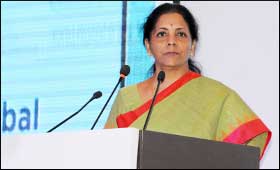 New Delhi, Sep 24 (IANS) Indian and Egyptian defence forces will "intensify" their training interactions and the two nations are also working towards holding joint exercises.
At the conclusion of Defence Minister Nirmala Sitharaman's official visit to Egypt, a ministry spokesman said the two countries have agreed to step up defence ties.
Sitharaman visited Egypt on September 20-22 on the invitation of Egyptian counterpart General Mohamed Ahmed Zaki Mohamed to take forward the "steadily growing bilateral defence ties" between the two nations.
"The two ministers decided to explore deeper cooperation in the fields of defence industry and research and development, including joint production of defence equipment.
"Both sides reaffirmed their intent to enhance cooperation in counter-terrorism. Naval cooperation, including cooperation in maritime domain awareness, was identified as a potential area," the statement said.
The two ministers agreed to mutual exchange of technical and expert level delegations to follow up on their discussions.
The bilateral ties were strongly articulated by Prime Minister Narendra Modi and Egyptian President Abdel Fattah el-Sisi during the latter's visit to India in 2016.