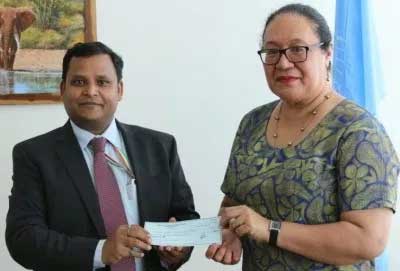 United Nations, June 9 (IANS) India has contributed $250,000 to the UN to fund a review of its programme for landlocked developing countries.
Accepting the cheque on Thursday, Under Secretary-General Fekitamoeloa Katoa 'Utoikamanu said, "India is a major partner from the South and also an important transit country for landlocked developing countries to transport their products to sea ports."
'Utoikamanu is also the UN High Representative for the Least Developed Countries, Landlocked Developing Countries and Small Island Developing States (UN-OHRLLS).
Her office said that Ashish Sinha, a Counsellor at India's UN Mission formally handed over the cheque for the upcoming high-level comprehensive midterm review of the Vienna Programme of Action for Landlocked Developing Countries.
"This contribution will enable UN-OHRLLS to support the participation of the landlocked developing countries in the meeting and its preparatory process" UN-OHRLLS said.
The review is scheduled for next year.
The six-point Vienna Programme of Action adopted in 2014 aims to promote development of transit systems, expansion of trade, regional cooperation, and poverty reduction in land-linked countries.
"India is committed to the fundamental principles of south-south cooperation and has previously made contributions to the Second UN Conference on LLDCs in 2014, which adopted the Vienna Programme of Action, as well as the Istanbul Conference on Least Developed Countries and its midterm review," UN-OHRLLS added.