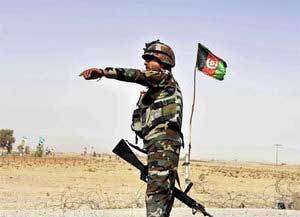 New Delhi, Oct 20  India on Thursday strongly condemned the terror attack by the Taliban on a military base in Afghanistan's Kandahar province that claimed at least 43 lives and expressed solidarity with the violence-hit nation.
India said the continued terror attacks in Afghanistan demonstrate that safe havens and support systems continue to be available to terrorists.
"We strongly condemn the barbaric attack at the Afghan National Army base in Kandahar province. Coming on the heels of similar tragedies in Paktia and Ghazni, we share the grief of the families of the victims and the suffering of the Afghan people," the External Affairs Ministry said in a statement.
It said "India is gravely concerned" at the recent escalation of terrorist violence against Afghanistan, "despite hopes recently kindled by new strategies as well as efforts" for bringing peace in the country.
"The beginning of Afghan-owned and Afghan-led national reconciliation requires an end to violence. States hosting the terrorists and their sanctuaries must eliminate them immediately and without distinction," the statement said.
"India expresses solidarity with the people and the government of Afghanistan in these difficult times," it said.
At least 43 soldiers were killed and another nine wounded on Thursday in a coordinated attack by the Taliban on a military base in Kandahar.
A suicide bomber detonated explosives in a vehicle at the military base in Maiwand district. This was followed by armed clashes with the troops stationed in the camp, according to Afghan officials.
This was the third large-scale attack against the Afghan forces this week.