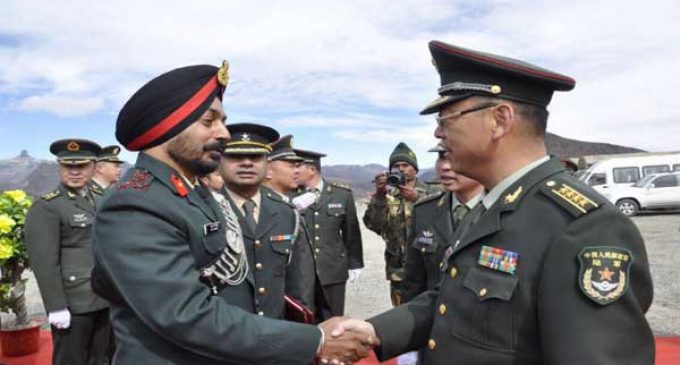 Itanagar, Oct 31  India and China on Monday held a Border Personnel Meeting at Bumla near Arunachal Pradesh's Tawang and a "thaw" in relations was evident at the meet, an official statement said.
The meet, that comes months after a stand-off along the Sikkim sector which ended on August 28.
Located at an altitude of 15,134 feet and situated 42 km north of Tawang town, Bumla is one of the five designated BPM venues, between Indian and Chinese troops.
The Indian delegation was led by Brig M.P. Singh, and the Chinese by Senior Col Liu Jiang Xun.
The Scheduled Military BPM commenced with the hoisting of national flags and rendition of national anthems of both the nations. This was followed by ceremonial welcome address by both delegation leaders, who extended greetings & good wishes to each other.
"The thaw in the relations was evident during the meeting as both the delegations interacted in a free, congenial and cordial environment. The delegations parted amid the feeling of friendship and renewed commitment towards enhancing cordial relations and maintaining peace along the Line of Actual Control (LAC)," the statement said.
It said that in last 25 years, the BPM mechanism has evolved into a vital platform for resolving local issues and fostering confidence with a view to enhance peace & tranquility in the sector.
The stand-off between Indian and Chinese troops close to India-China Bhutan tri-junction started on June 16, when a PLA construction party entered the Doklam area and attempted to construct a road. Both sides announced disengagement on August 28.