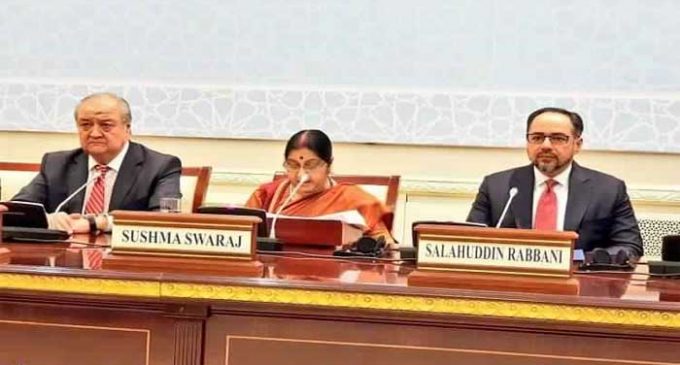 Samarkand (Uzbekistan), Jan 14 (IANS) India and the five Central Asia nations of Uzbekistan, Kazakhstan, Kyrgyzstan, Tajikistan and Turkmenistan on Sunday backed an inclusive peace process in Afghanistan that is Afghan-owned and Afghan-led following the first ever India-Central Asia Dialogue here.
External Affairs Minister Sushma Swaraj co-chaired the Dialogue that was also attended by the Foreign Ministers of Afghanistan, Uzbekistan, Kyrgyzstan, Tajikistan and Turkmenistan and the First Deputy Foreign Minister of Kazakhstan.
"India … reiterates its support and commitment to peace, security and stability of Afghanistan; to promote inclusive Afghan-led, Afghan-owned and Afghan-controlled peace and reconciliation process and to assist in economic reconstruction of Afghanistan," she told the media after the Dialogue.
"I pointed out that no business development, no investment can take place in a country suffering from terrorism," she said. "To promote business development in our region, we agreed to fight the scourge of terrorism together."
Though New Delhi, as a policy, does not hold talks with the Taliban, it has indicated that it supports an inclusive peace process in Afghanistan.
India and the US earlier this week discussed the ongoing peace process in Afghanistan during a meeting between Sushma Swaraj and US President Donald Trump's Special Envoy on Afghanistan Zalmay Khalilzad.
Khalilzad's visit for an intra-Afghan political settlement reflects New Delhi's stand that it is for an "Afghan-owned, Afghan-led and Afghan-controlled" peace and reconciliation process.
Khalilzad is leading an inter-agency delegation to India, China, Afghanistan and Pakistan from January 8-21
According to a joint statement issued after Sunday's meeting here, the Ministers welcomed the participation of Afghanistan as an important land link in the regional cooperation, transit of goods and energy and expressed support and commitment of Central Asian countries and India to peace, security and stability of Afghanistan.
The countries agreed to promote inclusive an Afghan-led, Afghan-owned peace process and reconciliation and to assist in economic reconstruction of Afghanistan through the implementation of joint infrastructure, transit and transport, energy projects including regional cooperation and investment projects.
India plays a significant role as a development aid partner in Afghanistan.
"The heads of foreign ministries noted the importance of sustainable economic growth in Afghanistan by attracting Afghan women to participate in the public life of the country and welcomed the successful holding of forums and conferences on this issue in the countries of Central Asia," the joint statement said.
In her address to the media, Sushma Swaraj said that development partnership had emerged as an important component of India's engagement with other countries.
"Today, I offered to extend this partnership to Central Asia as well where we can bring our countries closer by taking up concrete projects, inter alia, under our lines of credit and buyers' Credit, and by sharing our expertise," she said.
"India proposes the setting up of the India-Central Asia Development Group to take forward this development partnership."
According to the joint statement, the Ministers emphasised the importance of developing and implementing projects that provide a concerted solution to the problems and issues of economic growth of Central Asia.
"The parties expressed their intention to strengthen cooperation in order to create real opportunities for expanding economic cooperation, ensuring favourable conditions for mutual free trade," it stated.
"Heads of foreign ministries discussed … areas of cooperation in promoting mutual trade, attracting investments, innovations and technologies in key spheres of industry, energy, information technologies, pharmaceuticals and agriculture, education and training."
Sushma Swaraj also said that the joint efforts of India, Iran and Afghanistan have led to the development of the Chabahar port on the southeastern coast of Iran as a viable route to connect to Afghanistan and potentially to Central Asia.
India is investing $500 million to develop the Chabahar port and a road link from there to Afghanistan to give access to that country, bypassing Pakistan.
The port is a key link in the International North South Transport Corridor (INSTC), a 7,200-km-long multi-modal network of ship, rail and road routes to move freight between India, Iran, Afghanistan, Armenia, Azerbaijan, Russia, Central Asia and Europe.
"We will be happy to see participation from Central Asian countries at the forthcoming Chabahar Day International Conference in Chabahar on February 26, 2019," Sushm Swaraj said.