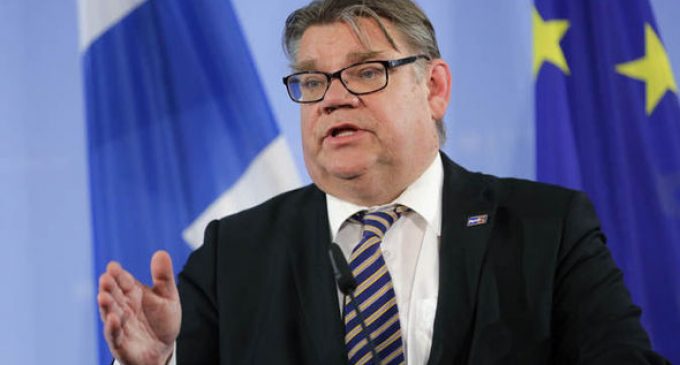 New Delhi, Nov 23 (IANS) One way for India, along with Japan, Germany and Brazil, to get permanent membership of the UN Security Council is to take this without assuming the veto power, Finnish Foreign Minister Timo Soini said here on Thursday.
Soini, who also visited Myanmar before arriving here on Wednesday on a four-day visit, described the Rohingya refugees issue in that country as "worrisome" but stressed that the dialogue process with the Myanmarese leadership should continue.
"The P5 (the five permanent members US, Britain, France, Russia and China) are not going to give up their veto right and they are not going to give the veto right to any newcomer," he said during an interview with IANS.
The G4, comprising India, Japan, Germany and Brazil, have been demanding permanent membership in the UNSC given the changing global scenario.
"One solution could be that Japan, India, Germany and Brazil could become permanent members in the Security Council without taking veto power because the world is very different from when this P5 system was created after the Second World War," Soini said.
"Some of the bigger countries (today) are more influential than some of those who are there on a permanent basis."
Soini also said that Finland has "no problem" with India getting membership in the Nuclear Suppliers Group (NSG).
China has been blocking India's membership in the NSG on the ground that for a country to become a member of the 48-nation bloc, it should be a signatory to the nuclear Non-Proliferation Treaty (NPT).
Regarding the Rohingya refugee crisis, he said that he spoke to Myanmar State Counsellor Aung San Suu Kyi and expressed his worries over the violence behind it, access to humanitarian aid, and also the safe return of the refugees to their homes.
More than 600,000 Rohingyas have fled to neighbouring Bangladesh since violence erupted in Myanmar's Rakhine state late in August.
The minority Rohingya community does not enjoy citizenship in Myanmar and are sparingly given refugee status in Bangladesh.
Human rights monitors accused Myanmar's military of atrocities against the minority population during its clearance operations following Rohingya militants' August 25 attacks on multiple government posts.
On Thursday, however, Bangladesh Foreign Minister Abul Hassan Mahmood Ali and Minister for the Office of the State Counsellor of Myanmar Kyaw Tint Swe signed a memorandum of understanding (MoU) in Nay Pyi Taw for the return of these refugees.
Soini said that a situation should not arise where the Rohingyas live in Bangladesh as refugees forever.
"We should remember that Aung San Suu Kyi is still not the supreme actor with the military still in charge and there are constitutional restrictions," he said. "But we shouldn't isolate Myanmar. We should have dialogue."
Asked about India's approach that the issue should be handled in a humane manner, development activities should be initiated in Rakhine state and conditions should be created for the safe and secure return of the refugees to their homes, the Finnish Foreign Minister said that "we deal (with problem) with the same kind of approach" and that New Delhi can play an important role in finding a solution.
Soini said that the Rohingya crisis will be among a number of issues that will come up for discussion when External Affairs Minister Sushma Swaraj will hold a bilateral meeting with him on Friday.
The Finnish Foreign Minister said that India-Finland commercial ties will be an important part in Friday's because there is "much unfulfilled potential".
India's trade with Finland has crossed $1 billion and is in favour of the Nordic country. Finnish companies have invested $419 million in India between April 2000 and July 2017.
Soini listed renewable energy, sanitation, education and information and communication technology (ICT) as among the sectors where there is scope for greater bilateral cooperation.
Here to attend the Fifth Global Conference on Cyber Space, the Finnish Minister is of the view that international rules and agreements are needed to handle cyber issues.
"An international rules-based system is important for cyber issues," he said.
Source : Sarkaritel.com