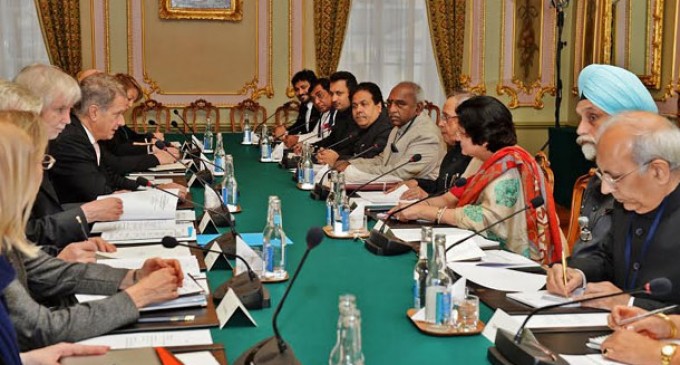 New Delhi, Oct 17 President Pranab Mukherjee, expressing satisfaction at the outcome of his visit to Norway and Finland, Friday said India can gain from the two countries' expertise in areas such as clean technology and waste management.
In a statement to the media at the conclusion of his visit to the two Nordic countries, Mukherjee said that his visit had been successful.
"I am satisfied that during this visit and in the course of my interactions with the Norwegian and Finnish leadership, we made progress in a number of areas," he said.
Noting Norway and Finland were both highly developed countries, having resources, technological advancements, innovation capabilities and expertise in sectors key for India, he said: "They have expertise in specialized areas like clean technologies, renewable energy, bio-technology, waste management as also education, research, skill development and innovation.
"India can cooperate successfully with them keeping in mind the objective of sustainable development," he said.
Mukherjee said the abiding theme of his visit was expanding cooperation in education, research, innovation, trade and investment.
During his visit to Norway, six governmental agreements were signed for cooperation in the fields of earth sciences, culture, and scientific research.
In Finland, four agreements were signed for collaboration and research in renewable energy, bio-technology, civil nuclear research and meteorological issues.
The academic delegation accompanying the president also established institutional tie-ups with Norwegian and Finnish Universities. Eight memorandums of understanding were signed with educational institutions in Norway and 17 in Finland with a view to promote faculty, student and research exchanges.
The president said he briefed the Norwegian and the Finnish leadership about India's efforts for full membership of the four export control regimes and its impeccable record on non-proliferation.
"We sought their support in this regard. We also sought their continued support in our endeavour for reforms in the UN Security Council and for India's candidature's for a permanent seat in the expanded UN Security Council," he said.
The statement said that both countries expressed support for India getting the membership.
Mukherjee extended invitations to the Norwegian king and prime minister as well as Finnish president and the prime minister to visit India to maintain regularity of high level visits and provide continued momentum to the relationship.
Mukherjee, who is the first Indian president to have visited Norway, said he was delighted with the "happy coincidence" of his visit closely following the awarding of the Nobel Peace Prize to activist Kailash Satyarthi.
Satyarthi was awarded the prize along with Pakistan's Malala Yousufzai.
Mukherjee said he had extensive discussions on bilateral, multilateral and global issues with the Finnish leadership.
"We exchanged views on issues like the situation in Ukraine, Syria, Afghanistan and the BRICs Bank. We also discussed the need to cooperate against terrorism, as terrorism knows no borders," Mukherjee said.
He said the visit provided an opportunity to discuss India's cooperation in the Arctic and glacial research in both Norway and Finland.
Mukherjee said he briefed the leadership in Norway and Finland about India's economic situation as well as about recent policy initiatives such as the "Make in India" campaign.
He said India was an attractive investment destination for both the countries, including by the Norwegian sovereign Global Pension Fund.
"Both Norway and Finland recognized that there was great potential to enhance our economic engagements. They both importantly, conveyed that they are looking beyond Europe in this regard," the president said.
The release said the Finnish leadership mentioned that their companies were keenly pursuing opportunities to invest in India and the Norwegian side expressed their keenness for the conclusion of negotiations of European Free Trade Agreement and informed that they had decided to open consulate general office in Mumbai.