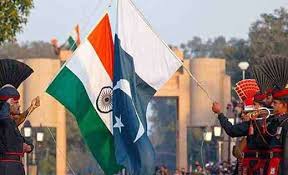 New Delhi, Aug 18 Taking a tough stand at Pakistan's engagement with Kashmiri separatist leaders, India Monday called off the Aug 25 foreign secretary-level talks, terming unacceptable "the continued efforts to interfere" in its internal affairs. Pakistan described the decision as a "setback" to its efforts to promote good neighbourly relations.
External Affairs spokesperson Syed Akbaruddin conveyed the Indian government's decision following Pakistan High Commissioner Abdul Basit's meeting with separatist Kashmiri leader Shabir Shah in the capital Monday for consultations before the foreign secretary-level talks.
"Foreign Secretary Sujatha Singh's visit to Islamabad for talks on Aug 25 stands cancelled," he said, adding that the talks have been called off as "no useful purpose will be served" by her visit.
In its reaction, the Pakistan Foreign Office said it has been informed of India's decision to call off the talks "taking exception" to its high commissioner in New Delhi holding meetings with Kashmiri leaders but noted that it is a "long standing practice" ahead of bilateral talks to hold meetings with Kashmiri leaders in order to "facilitate meaningful discussions on the issue of Kashmir".
Other Kashmiri separatist leaders asserted they would go on to meet the Pakistani envoy Tuesday and criticised the Indian government for calling off the talks over the invitation to them.
Announcing the decision in a strong statement, Akbaruddin said that the invitation to "so-called leaders of the Hurriyat does indeed raise questions about Pakistan's sincerity, and shows that its negative approaches and attempts to interfere in India's internal affairs continue unabated".
Pakistan should resolve outstanding issues through peaceful bilateral dialogue within the framework and principles of the Simla Agreement and the Lahore Declaration, he added.
Akbaruddin noted that that the Islambad's "negative apporach" had come at a time when serious initiatives were being undertaken by the Narendra Modi government to move bilateral ties forward, including towards the resumption of a regular dialogue process.
"Indian Foreign Secretary conveyed to the Pakistan High Commissioner today, in clear and unambiguous terms, that Pakistan's continued efforts to interfere in India's internal affairs were unacceptable. It was underlined that the High Commissioner's meetings with these so called leaders of the Hurriyat undermines the constructive diplomatic engagement initiated by Prime Minister Modi in May on his very first day in office," he said.
Akbaruddin later told CNN-IBN news channel that Sujatha Singh called Abdul Basit before his meeting with Shah and explained to him that "this part of interference in India's internal affairs was totally unacceptable".a
"Yet the Pakistan high commissioner proceeded and had meeting. Therefore, it led us with no choice but to decide not have engagement when the atmosphere was vitiated," he said.
The move to cancel the talks also came amid concern in the government over ceasefire violations by Pakistan over the past few days. Defence Minister Arun Jaitley, who was in Amritsar, justified the cancellation and termed the ceasefire violations as "deliberate".
"With these kind of provocations like the ceasefire violations and, more seriously, invitation to separatists to meet the high commissioner, it's for Pakistan to decide what kind of relationship it wants with India," he said.
The cancellation of talks marked another dramatic turn in the tumultuous relationship between the two countries which had begun to look up following Pakistan Prime Minister Nawaz Sharif attending Modi's swearing in here in May.
The Congress said the Modi government needs to explain why it decided to have talks with Pakistan in the first place.
Party leader Anand Sharma said that Pakistan had not responded adequately to the issues raised by the United Progressive Alliance government and that was why the composite dialogue process between the two countries was not restored.
"Why India went to the negotiating table. They (the Modi government) have been sending confused signals," he said.
In Srinagar, senior separatist leaders Syed Ali Geelani and Mirwaiz Umer Farooq, who respectively head the hardline and moderate factions of the Hurriyat, said they will visit New Delhi Tuesday to meet the high commissioner.
Jammu and Kashmir's ruling National Conference meanwhile termed the decision to call off the talks "strange" while the opposition Peoples Democratic Party called it "a negative development".
Shah meanwhile told reporters after his meeting with Basit that there was need for trilateral talks to resolve Kashmir issue and said Modi government should accept Kashmir as a "dispute".