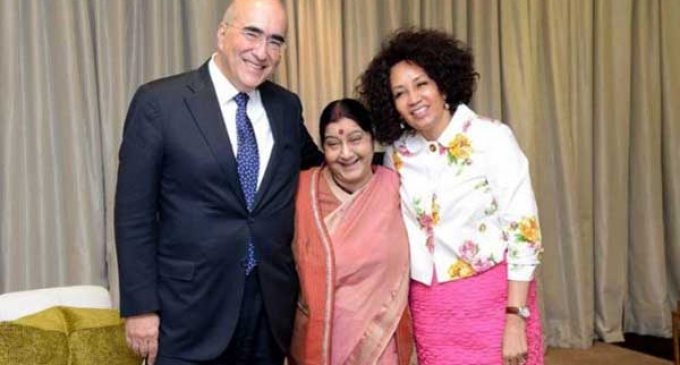 Pretoria, June 5 (IANS) India, Brazil and South Africa discussed South-South cooperation during an informal meeting here chaired by Indian External Affairs Minister Sushma Swaraj and attended by South African Minister of International Affairs and Cooperation Lindiwe Sisulu and the Brazilian Deputy Minister of Foreign Affairs Marcos Bezerra Abbott Galvao.
According to a statement issued by the Indian External Affairs Ministry following the meeting on Monday, the three ministers exchanged views on furthering cooperation within the IBSA grouping during the year.
"The ministers exchanged views on development cooperation and South-South cooperation," it stated.
The ministers adopted and jointly released the IBSA Declaration on South-South Cooperation to contribute to greater understanding of development cooperation as a common endeavor of the global South.
The declaration calls upon the global North to honour its overseas development aid (ODA) commitments fully, scale up existing resources and commit additional resources to provide the necessary means to implement the UN's Sustainable Development Goals (SDGs).
"IBSA reiterates the balanced emphasis on the social, economic, and environmental pillars of sustainable development," the declaration stated.
"IBSA recognises, inter-alia, capacity building, skills and technology transfer, food security and industrialisation as key to sustainable development."
The declaration further stated that the IBSA Fund, managed by the UN Office for South-South Cooperation (UNOSSC), has thus far partnered 19 countries from the Global South for implementing 26 projects over the last decade with a cumulative contribution of $35 million, adding that 62.4 percent of the IBSA Fund has been devoted to least developed countries (LDCs).
It said IBSA recognises that South-South Cooperation is voluntary in nature and not obligatory like ODA is.
Stating that respect for national sovereignty is at the core of South-South cooperation, it said South-South cooperation is about interdependences and not "new dependencies".
"IBSA believes that the primary responsibility towards development rests with the states themselves under their ownership and leadership," the declaration stated.
It said IBSA is convinced that South-South Cooperation is completely different from the North-South/donor-donee cooperation, and that ODA templates are not a good basis for South-South Cooperation.
"Further, South-South Cooperation does not imply reducing the responsibilities of developed countries with respect to their ODA commitments, new and additional financing, provision of means of implementation to achieve the goals of the Paris Agreement on Climate Change as well as implementation of the SDGs," the declaration said.
On emerging focus areas, it said IBSA will step up advocacy for reforms of global governance institutions in multilateral fora.
Stating that IBSA is committed to the realisation of the SDGs, the declaration said: "In this regard, IBSA considers responsible financing an essential component of development cooperation and would like to underline that such efforts should not potentially hamper the long term interest of partner countries."