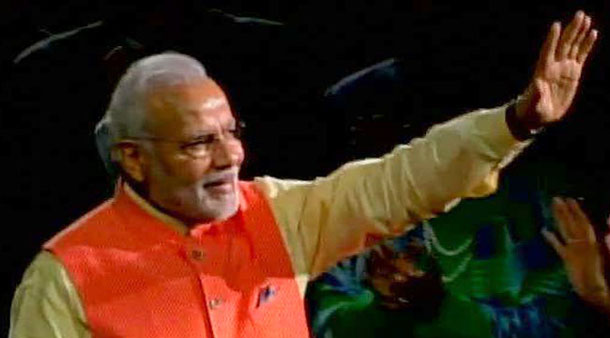 New York, Sep 28 At an opportune cusp of circumstances, blessed with a vibrant democracy, with 65 percent of its people under the age of 35, and a market of 1.25 billion people, India will scale new heights in the near future, Prime Minister Narendra Modi said Sunday.
Addressing an around 20,000-strong gathering cheering Indian diaspora at Madison Square Garden, Modi said India is the youngest nation in the world and also the country with an ancient civilisation.
He said 65 percent of the people are under the age of 35 and with the IT ability of Indians "there is no need for such a country to turn back and look".
Modi said it is "important to recognise our strengths and mobilise them to go forward fast".
Referring to the elections, in which he led the Bharatiya Janata Party to power, Modi said the 1.25 billion people of the country had given their blessings to govern and it was akin to god's own blessings.
He said democracy is India's biggest strength and also its demographic dividend.
The third advantage is the demand – "the entire world has its sights on India and it knows that its 1.25 billion people is a huge market", he said.
"These three things are present in one country, this is not there anywhere in the world. And on the basis of this India will cross new heights – it is my belief," said Modi to loud cheering and chants of "Modi, Modi".