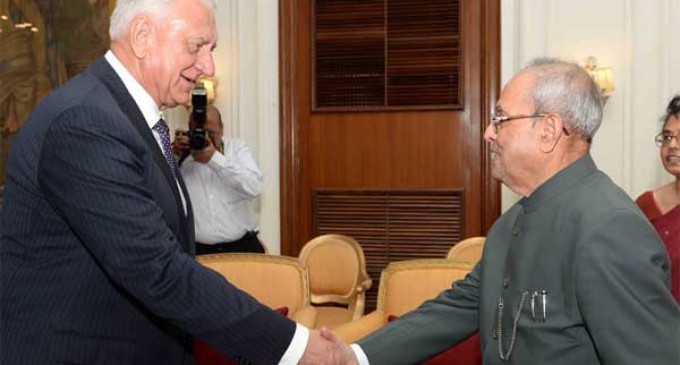 New Delhi, May 12 President Pranab Mukherjee on Wednesday said bilateral trade between India and Belarus is expected to reach $1 billion by 2018.
"There is need to work together to raise the level of India-Belarus bilateral trade from the existing $445 million to $1 billion by 2018 as per the target set by the two sides in September last year," Mukherjee said in his address while welcoming the parliamentary delegation from Belarus led by Mikhail Myasnikovich, the Chairman of the Council of Republic of National Assembly of Belarus.
He expressed hope that the current visit of the parliamentary delegation will further strengthen these ties.
Mukherjee also thanked Myasnikovich for his active support and contribution to the elevation and diversification of India-Belarus ties.
"The year 2017 marks the twenty-fifth anniversary of the establishment of diplomatic relations between India and Belarus," the President said expressing confidence, "the large business delegation accompanying Myasnikovich will further augment and diversify bilateral trade and economic relations".
Responding to the president, Myasnikovich said "the people and government of Belarus were touched by his visit to their country in June 2015 and they are closely monitoring progress in implementation of the agreements signed and road-map agreed upon."
President Mukherjee had visited Belarus in 2015 and the seventh Inter-Governmental Commission of the two countries during its meeting at country's capital Minsk had set the target to take the bilateral trade to $1 billion by 2018.