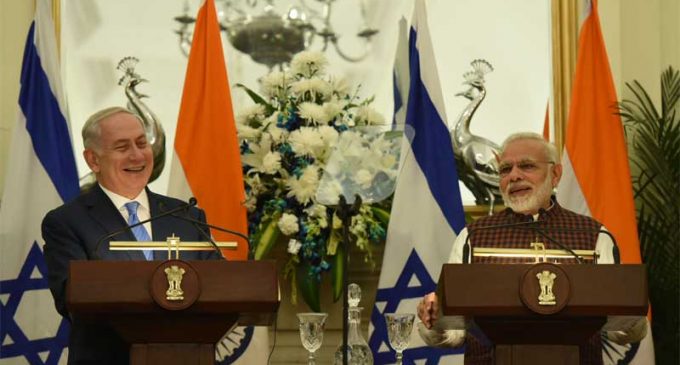 New Delhi, Jan 15 (IANS) With Israeli Prime Minister Benjamin Netanyahu on an official visit here, India on Monday assured Israeli companies of resolving their concerns on doing business in the country, saying it would further ease the process in this regard.
Referring to some issues raised by Israeli firms, such as those relating to import duties, taxes and licensing processes, in his address at the India-Israel Business Innovation Forum organised by industry chamber CII, the Department of Industrial Policy and Promotion (DIPP) Secretary Ramesh Abhishek said these had already been taken up with the ministries concerned for resolving.
"I assure you to resolve all problems and make things easier and better for Israeli companies to do business in India," Abhishek said.
"We have been able to do a few things in the last few months and many are in progress," he added.
The Israeli Prime Minister arrived here on Sunday on a six-day visit to India to step up growing trade as well as military and strategic ties between the two countries.
Addressing the forum, Israel's Trade Commissioner Ohad Cohen expressed hope that the Netanyahu visit would pave the way for the proposed Israel-India Free Trade Agreement (FTA).
At the event, eight memoranda of understanding (MoU) were signed to increase economic cooperation between the two sides. Among these were MoUs signed by the Confederation of Indian Industry (CII) separately with the Israel-Asia Chamber of Commerce and the Israel Export and International Cooperation Institute.
Besides, the DIPP-sponsored Invest India entity exchanged an MoU with Israel's Foreign Investments and Industrial Cooperation. Tata Projects also signed an MoU with Israeli company Water-Gen.
This is the first visit to India by an Israeli Prime Minister since Ariel Sharon came in 2003.
Netanyahu's entourage includes the largest-ever delegation of Israeli business consisting of 130 members representing over 100 companies.
The bilateral trade between the countries was worth over $5 billion in 2016-17.
Both Prime Minister Narendra Modi and Netanyahu are slated to address the business forum later on Monday.