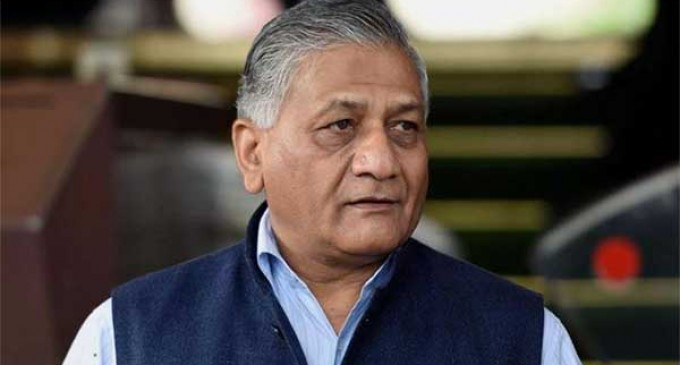 New Delhi, Jan 23 (IANS) Stating that India and the Asean regional bloc have been working on regional security architecture in the Asia-Pacific, Minister of State for External Affairs V.K. Singh on Monday said that both sides are looking at settling disputes in the region
"At the politico-security level, we have been working with each other to bring an open, transparent, inclusive and evolutionary regional security architecture which would meet both traditional and non-traditional security challenges," he said in his address at the inaugural plenary of the Association of Southeast Nations (Asean)-India Business and Investment Meet and Expo here.
"Mutually, we have been working towards evolving a regional security architecture in the Asia-Pacific that hinges on emphasising on the peaceful settlement of disputes.
"We have enhanced our maritime cooperation and security and it has been a focus of Asean-India ties," he said, in remarks that assume significance given China's continued belligerence in the South China Sea region.
Monday's event was part of the build-up to the commemorative summit being hosted by New Delhi on January 25 to mark the 25th anniversary of the India-Asean Dialogue Partnership.
The ASEAN comprises Brunei, Cambodia, Indonesia, Laos, Malaysia, Myanmar, the Philippines, Singapore, Thailand and Vietnam.
Referring to the India-Asean economic ties, Singh said that while trade between the two sides stood at $5 billion in 1992, it has now gone to over $70 billion.
While Asean is India's fourth largest trading partner, India is Asean's seventh largest, he said.
"We are actively engaged in the Regional Comprehensive Economic Partnership (RCEP) negotiations," he said.
"When finalised, it will become the largest trading partnership accounting for 40 per cent of world trade."
The RCEP is a proposed free trade agreement (FTA) between the 10 Asean member states and the six countries with which Asean has FTAs — Australia, China, India, Japan, New Zealand and South Korea.
Singh also referred to Prime Minister Narendra Modi's announcement in 2015 of a project development fund for catalysing Indian projects in Cambodia, Laos, Myanmar and Vietnam.
"This fund with a corpus of $77 million is up and running now with potential sectors identified and pre-feasibility studies being undertaken soon," he said.
Stressing that developing infrastructure and connectivity is a major ascpect of India-Asean ties, Singh said that efforts were on to enhance physical connectivity through land, sea and air.