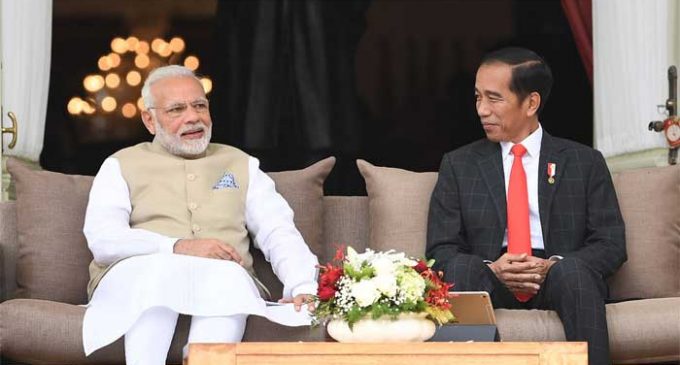 Jakarta, May 30 (IANS) In a strong reaffirmation of India's growing ties with southeast Asia, Indian Prime Minister Narendra Modi on Wednesday said that India and the Asean regional bloc can jointly ensure peace and prosperity in the Indo-Pacific region and beyond.
"In today's changing scenario in the Indo-Pacific region, we (India and Indonesia) are geostrategically located," Modi said in joint address to the media with Indonesian President Joko Widodo following a bilateral summit here.
"Under India's Act East Policy, we have SAGAR – Security and Growth for All in the Region – that matches with President Widodo's Global Maritime Fulcrum," he said.
While Modi's SAGAR initiative underscores India's engagement in the Indian Ocean region, Jokowi's Global Maritime Fulcrum seeks to capitalise on Indonesia's geographic position to make the southeast Asian nation a "fulcrum" of Indo-Pacific maritime activity.
Highlighting India's growing ties with the Association of Southeast Asian Nations (Asean), Modi said: "The partnership between India and Asean can guarantee peace and prosperity in the Indo-Pacific region and beyond."
The Asean comprises Brunei, Cambodia, Indonesia, Laos, Malaysia, Myanmar, the Philippines, Singapore, Thailand and Vietnam.
India is also part of a recently revived quad, including the US, Japan and Australia, that seeks to work for peace and prosperity in the Indo-Pacific region.
In a significant announcement, Modi said that India and Indonesia have decided to elevate their bilateral ties to that of a Comprehensive Strategic Partnership.
He also condemned the terror attacks in Indonesia earlier this month.
"I express my and the people of India's deep grief in the recent terror attacks in Indonesia that killed claimed the lives of innocent people," the Indian Prime Minister said.
"India strongly condemns this and stands in solidarity with the people and government of Indonesia."
At least 11 people, including a suicide bomber, were killed on May 13 in bomb attacks on three churches in the Indonesian city of Surabaya.
A fourth bomb blast near a police station in East Java killed three persons later the same day.
Modi said that it is time for the world to come together in the fight against terrorism.
Stating that India and Indonesia share strong cultural linkages, he said that 2019 will mark 70 years of diplomatic relations between the two countries.
He said that for creating employment for the large youth populations of the two countries, India and Indonesia can learn a lot from each other in terms of education and skill development.
Prior to the bilateral summit, Modi and Widodo held a tete-a-tete on the verandah of the Merdeka Palace here following a guard of honour to the visiting dignitary.
Modi arrived here on Tuesday on the first leg of his five-day three-nation tour of southeast Asia that will also see him visiting Malaysia and Singapore.
This is his first visit to Indonesia as Prime Minister.