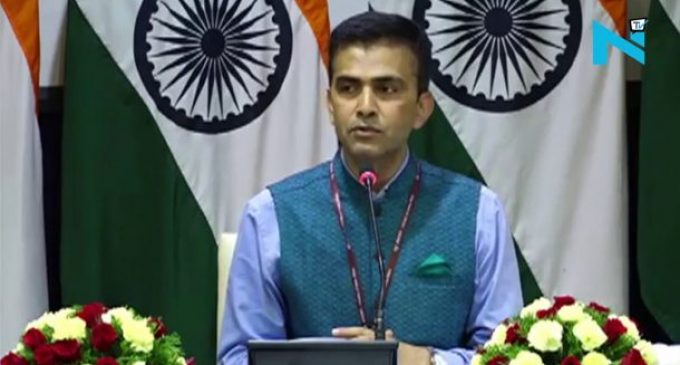 New Delhi, Dec 20 (IANS) After US President Donald Trump gave a leadership role to India in his new "America First Security Strategy", New Delhi voiced appreciation for Washington laying importance to the bilateral relationship.
"We appreciate the strategic importance given to India-US relationship in the new National Security Strategy released by the US," External Affairs Ministry spokesperson Raveesh Kumar said late Tuesday in a response to queries.
"As two responsible democracies, India and the US share common objectives, including combating terrorism and promoting peace and security throughout the world," Kumar said.
The new US security plan released on Monday said: "We will deepen our strategic partnership with India and support its leadership role in the Indian Ocean security and throughout the broader region."
Washington also pledged to increase quadrilateral cooperation with Japan, Australia and India.
"We welcome India's emergence as a leading global power and stronger strategic and defence partner. We will seek to increase quadrilateral cooperation with Japan, Australia and India."
In November, India, the US, Japan and Australia held a quadrilateral meeting in the Philippines on the sidelines of the East Asia and Asean Summits to discuss the security and prosperity of the Indo-Pacific region.
This assumes significance given China's aggressiveness in the South China Sea and attempts to increase its influence in the Indian Ocean.
Kumar said: "A close partnership between India and the US contributes to peace, stability and prosperity in the Indo-Pacific region, as well as to the economic progress of the two countries."
Trump's security strategy also stated that the US would continue to push Pakistan to speed up its counter-terrorism efforts.
"We will press Pakistan to intensify its counter-terrorism efforts, since no partnership can survive a country's support for militants and terrorists who target a partner's own service members and officials," it said.