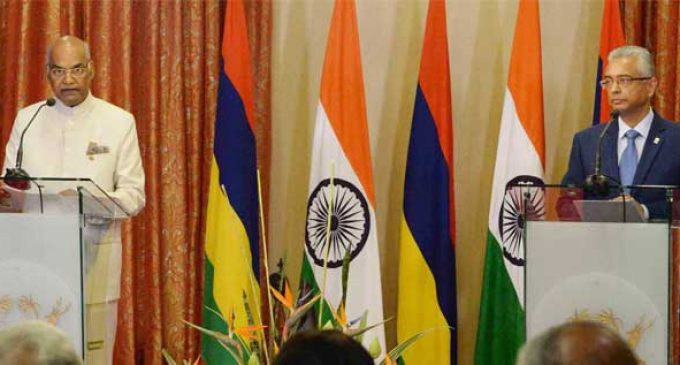 On his visit to Mauritius on the occasion of its 50th anniversary, India President Ram Nath Kovind and Mauritius PM Pravind Kumar Jugnauth signed a number of MoUs.
In a statement to the media, President Kovind announced, "India has signed an MoU to revive the Nalanda University which was a global seat of learning in what is today Bihar, from where ancestors of many Mauritians came. Also, the ministry of AYUSH India will institute an academic chair for Ayurveda at the University of Mauritius to help promote the science for the benefit of the people of Mauritius. India and Mauritius share deep historical links and people to people ties. We have now entered a new era of cooperation with 25 priority projects being implemented in Mauritius with Indian assistance."
India has lent Mauritius $353 million of assistance and a line of credit in November. India has also financed 950 housing units in the island nation. President Kovind will also be laying the foundation stone for an ENT hospital here tomorrow as well inaugurate the World Hindi Secretariat. Prime minister of Mauritius, Jugnauth informed that India and Mauritius have renewed the Programme for Cultural Cooperation for another four years upto 2021. This will ensure exchanges in culture, arts, literature and languages between the two countries.